US aviation company Surf Air Mobility has secured $450 million in financing over six years from Jetstream Aviation Capital to fund the planned growth of its fleet of turboprop aircraft.
Under the agreement, Surf will have access to the financing for six years for both new and used Cessna Caravans and Pilatus PC-12 single-engine turboprops, Surf said on 12 October. Each aircraft acquisition will be subject to separate binding sale, purchase and lease agreements.
"This agreement will enable Surf Air Mobility to grow its fleet to meet route expansion plans and customer demand as it seeks to expand its regional air travel footprint and sustainable flying solutions," Surf says.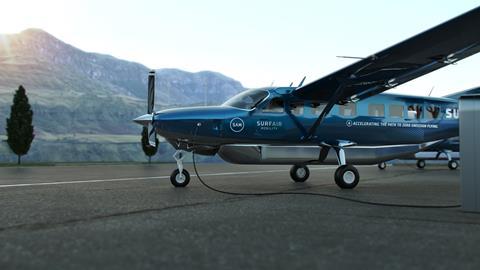 Los Angeles-headquartered Surf Air offers members charter flights on turboprop aircraft operated by partner companies. The company is also developing hybrid-electric powertrain technology to "reduce direct operating costs and emissions from regional air travel", Surf says.
Surf is seeking to scale operations using Cessna Caravans modified with its hybrid-electric powertrains.
"We believe the customized aircraft leasing structure from Jetstream will provide us a capital-efficient way to more rapidly expand our operations at the scale necessary for a future when electrified aircraft unlock the latent demand for convenient, affordable regional travel on new routes across the US," says Surf founder Sudhin Shahani.
In addition to the aircraft financing deal, Miami-based Jetstream "expressed its intent to commit" to purchase up to 250 hybrid- and full-electric powertrains from Surf Air over five years, the latter says. The tentative deal is subject to certification of the powertrains by the US Federal Aviation Administration and the negotiation of pricing.
In May, Surf Air became a publicly traded company and acquired Southern Airways, a regional airline company that flies Cessna Caravans, Tecnam P2012 Travellers, Beechcraft King Air 200s and PC-12s on routes from dozens of US cities. Its operating divisions include Southern Airways Express, which flies in the mainland USA, and Mokulele Airlines, which operates in Hawaii.