Regional air travel company Surf Air Mobility anticipates it will be listed on the New York Stock Exchange during the week of 24 July, which would complete a process involving the company's acquisition of regional carrier Southern Airways.
The Los Angeles-based company said on 10 July that it would be listed as a publicly traded company under the ticker "SRFM".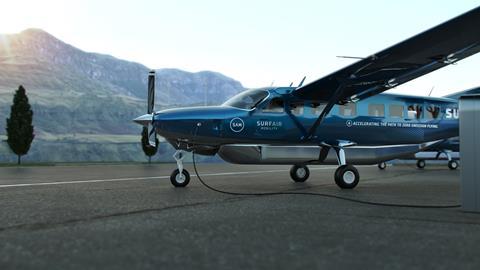 On 21 June, Surf disclosed that one of its financial backers, Luxembourg-based investment group Gem Global Yield, had agreed to purchase 1 million shares of Surf stock at $25 per share, contingent upon the company's public listing.
Through the subscription share facility, Surf can "from time to time" direct Gem to purchase shares for a quick cash infusion, with the total purchase price capped at $400 million. The company can also request four advances of $25 million a piece.
Surf is a membership-based company through which members can book flights with third-party Part 135 operators – mostly flying in California – and is considered a leader in creating end-to-end user experiences within the regional air mobility (RAM) segment.
The company is one of several start-ups seeking to electrify the existing fleet of regional aircraft by developing electric power trains to be retrofitted onto turboprop aircraft.
On 5 June Surf filed a registration statement with the US Securities and Exchange Commission (SEC) related to its stock exchange listing, which is conditioned upon closing the deal with Southern.
Florida-headquartered Southern Airways Express flies passengers using a fleet of about 50 regional aircraft, including some 40 Cessna Caravans, according to Cirium. Southern also operates between Hawaiian islands under the Mokulele Airlines brand.
"The Southern acquisition will result in a combined regional airline network servicing US cities across the mid-Atlantic, Gulf [Coast], Midwest, Rocky Mountains, West Coast, New England and Hawaii," Surf Air had said in June.