California start-up Surf Air Mobility has reported second-quarter results reflecting its recent acquisition of regional carrier Southern Airways – its first disclosure since being listed on the New York Stock Exchange last month.
Surf Air generated revenue of $6.2 million in the three months ended 30 June, while Southern's revenue was $22.4 million. The companies generated figures of $4.5 million and $19.6 million, respectively, during the same period last year.
But Surf Air lost $44.5 million during the second quarter, while Southern's loss stood at $1.7 million, against respective losses of $18.7 million and $1.2 million during the prior-year period.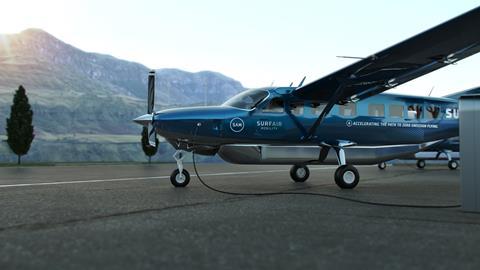 Based in Los Angeles, Surf Air currently operates a "technology-forward, on-demand scheduled regional aviation platform" – a membership model through which passengers can book flights with third-party operators.
The company is considered a leader in developing door-to-door travel experiences in the emerging regional air mobility segment, which is focused on operating traditional short-haul flights using low- or no-emissions technology.
Surf Air closed the deal to acquire Florida-based Southern on 27 July – the same day that it was listed as a public company – and subsequently became "the largest commuter airline in the United States and the largest passenger operator of Cessna Caravans… by scheduled departures," it says.
Surf Air in 2021 disclosed a deal with Textron Aviation to purchase 100 new Grand Caravans over a five-year period, with options for an additional 50 of the type. Deliveries are set to begin in 2024.
The start-up also has an exclusive deal with Textron to "become the exclusive provider of battery-electric and hybrid-electric powertrain technology for the Cessna Grand Caravan", Surf Air says.
Surf Air plans to retrofit Southern's sizeable fleet of existing Grand Caravans with hybrid-electric and fully electric powerplants, and to develop and certify its "EP1" propulsion system through partnerships with AeroTec, Magnix and Textron.
'ELECTRIFICATION AT SCALE'
Looking ahead, Surf Air anticipates modest second-half growth limited by supply chain constraints, the closure of Southern's operations in the Southern Pacific's Marianas Islands and "limited fleet expansion due to aircraft availability".
"We expect these concerns to be resolved as part of the Textron Aviation fleet order," it adds.
Surf Air also expects full-year revenue to reach $108 -$113 million in 2023, compared with the combined $101 million of revenue Surf and Southern generated last year.
It projects that annual revenue will hit $210-$230 million in 2025 based on "scheduled service growth driven by 31 new airplane deliveries" and growth of its "on-demand platform driven by the addition of flight operators and sales and marketing resources".
Surf Air expects to begin making the "transition to electrification at scale" in 2026, at which point it anticipates reaching year-on-year revenue growth in the range of 20-25%.
"We believe our commitment to electrification will allow our business to achieve rapid growth and expand margins for many years to come," Surf Air says. "Electrified aircraft, once certified, will improve the unit economics across our network to what we believe will be industry-leading margins in regional air travel."
Additionally, the company anticipates that it will demonstrate the expected economic benefits of electric aviation to other regional operators, "creating a massive market" for its in-development technology.
The company also has ambitions to electrify larger aircraft than Caravans after proving the safety and reliability of its propulsion systems.
"Looking ahead, we believe our vision for electrified powertrains will unlock additional revenue growth opportunities, including recurring revenue channels, reduce direct operating costs and further drive profitability over time," says Deanna White, Surf Air's chief financial officer.
As of 27 July, Surf Air had $34.7 million cash on hand, with access to cash advances of up to $100 million through a subscription share deal with Luxembourg-based investment group Gem Global Yield.
This story has been edited to correct a date in the seventh paragraph.