Textron Aviation has confirmed California start-up Surf Air Mobility's order for the first 20 Cessna Grand Caravans to be converted with in-development electric and hybrid-electric powertrain technology.
Cessna parent Textron Aviation said on 26 September that Surf has paid the deposit for its first 20 of the single-engine turboprops, with deliveries expected to begin in the first half of 2024.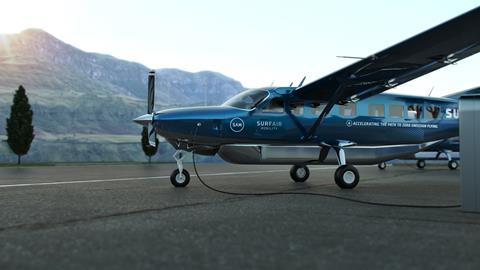 Surf Air holds orders for 100 total Cessna Caravans – with options for 50 additional aircraft – and an agreement to be Textron's exclusive provider of "certain battery-electric and hybrid-electric powertrain technology for the Cessna Grand Caravan".
"The Cessna Caravan's adaptability for passenger and cargo operations makes it an ideal platform for hybrid electric and electric propulsion innovations," says Lanni O'Bannion, Textron's senior vice-president, global sales and flight operations. "This exclusive relationship demonstrates Textron Aviation's commitment to the future of sustainable flight."
Los Angeles-based Surf Air plans to utilise electric-retrofitted Cessna Caravans throughout its planned network, "connecting more airports with short-haul direct servcie across the US on a path to creating a regional mass transport platform to sustainably connect communities", Textron says.
The start-up plans to develop and certify its "EP1" propulsion systems through partnerships with AeroTEC, MagniX and Textron, and aims to achieve type certification in 2026.
In July, the company finalised its acquisition of US regional carrier Southern Airways as part of Surf's listing on the New York Stock Exchange.
"We are now well-positioned to build a platform that delivers accessible, affordable and sustainable regional travel for our customers," chief executive Stan Little said at the time. "Our public listing is just the beginning."