Surf Air Mobility has completed its acquisition of US regional carrier Southern Airways, and now turns attention to its fleet expansion and electrification plans.
The Southern California-based start-up said on 2 August that the deal closed "immediately prior" to Surf's 27 July listing on the New York Stock Exchange. Southern is now a wholly owned subsidiary of Surf Air.
"We are now well-positioned to build a platform that delivers accessible, affordable and sustainable regional travel for our customers," says Stan Little, chief executive of Surf. "Our public listing is just the beginning."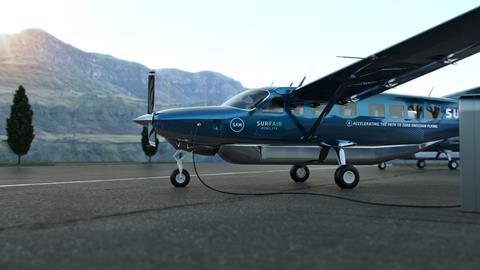 The regional air mobility company also disclosed that it has a deal with Textron Aviation to purchase 100 new Cessna Grand Caravans over a five-year period, with options for an additional 50 of the type. The deal was triggered by Surf's public listing. Aircraft deliveries are set to begin in 2024.
Surf's business plan is multi-faceted. Its acquisition of Southern will "provide the basis for SAM's anticipated expanded, nationwide regional air mobility platform", it says.
Florida-headquartered Southern Airways Express flies passengers using a fleet of about 50 regional aircraft, including about 40 Cessna Caravans. Southern also operates between Hawaiian islands under the Mokulele Airlines brand.
"Southern is the largest commuter airline in the United States and the largest passenger operator of Cessna Caravans… by scheduled departures," Surf says in a prospectus for investors released 26 July.
"The Southern acquisition will result in a combined regional airline network servicing US cities across the mid-Atlantic, Gulf South, Midwest, Rocky Mountains, West Coast, New England and Hawaii," Surf says.
Southern's network covers 40 US cities, including several Essential Air Service routes it is contracted to fly by the US government. The carrier previously operated in the South Pacific's Marianas Islands but stopped flying there on 1 April.
Surf currently operates a "technology-forward, on-demand scheduled regional aviation platform", it says. Through the company's membership model, passengers can book flights with third-party Part 135 operators, most of which fly in California.
The company also intends to electrify existing turboprop aircraft with under-development electric propulsion technologies. It has an agreement with Jetstream Aviation Capital to finance up to $450 million for expansion of Surf's fleet of turboprops, and estimates that its five-year fleet expansion strategy will cost $1.2 billion.
Surf plans to retrofit Southern's sizeable fleet of existing Grand Caravans with hybrid-electric and fully electric powertrains, and to develop and certify its "EP1" propulsion systems through partnerships with AeroTEC, MagniX and Textron.
"We have entered into exclusive arrangements with these companies to achieve certification of and commercialise hybrid-electric and fully-electric powertrains," Surf says.
Surf's goal is to gather real-time performance data on its hybrid and electric propulsion systems through its own operations, and ultimately sell the EP1 under its "exclusive marketing and sales agreement" with Textron.
"We believe this commercial relationship with [Textron], the producer of the Cessna Caravan, will help drive broad adoption of our EP1 powertrains once certified," Surf says.
Surf says it is "targeting offering powertrains to operators at an equivalent price to their current engine overhaul cost".
For the three months ending 31 March, Surf reports generating revenue of $5.5 million and Southern reports revenue of $22.7 million– up 14.3% and 35.6%, respectively, over the same period last year.