The business aviation industry will converge on Geneva from 23-35 May for its second post-Covid EBACE, anxious to discover if weakening traffic numbers – and a wider economic malaise across the globe – will send last year's impressive recovery into reverse. There are concerning signs, but the outlook remains broadly positive.
The annual event is the 21st since the National Business Aviation Association (NBAA) and its European counterpart EBAA established EBACE in 2001; the 2020 and 2021 shows fell victim to Covid restrictions. More than 50 aircraft will be on display at Geneva airport and the adjacent Palexpo, with around 400 exhibitors. Organisers expect to welcome 12,000 delegates.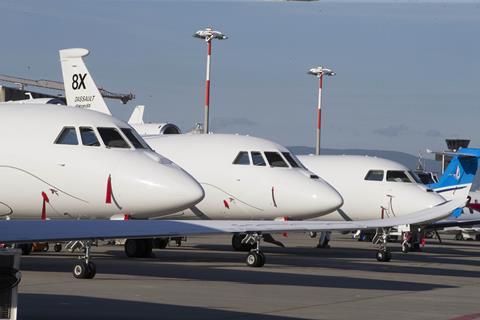 Data from consultancy WingX and Eurocontrol suggests business aircraft traffic in Europe has been in year-on-year decline since August 2022, with the gap widening early this year. However, take this in context. The last quarter of 2021 and 2022's first half saw the industry rebound impressively from the pandemic, before economies felt the impact of inflation fuelled by the Ukraine conflict.
Manufacturers began this year in bullish mood after a good previous 12 months for most. General Aviation Manufacturers Association (GAMA) figures for 2022 show all the major airframers boosted output and revenues – the latter partly the result of inflation, but also because they had to deviate less from list prices.
While business jet deliveries for the full year increased by just two aircraft – to 712 – the amount of revenue manufacturers made from those was up 4.5%. Turboprops fared even better. Overall billings for fixed-wing piston-, turboprop-, and turbine-powered aircraft at $22.9 billion were the highest since the $23.5 billion achieved in 2019.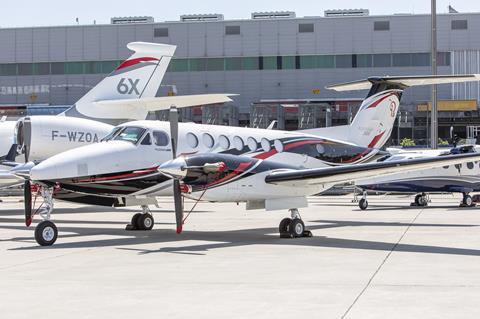 A flurry of new product development means the biggest manufacturers are all sitting on healthy backlogs, which should cushion them from any slight, economic uncertainty-induced dip in orders in 2023 and beyond. Dassault Aviation has commitments for 87 Falcons, one of its highest in recent years, boosted by the imminent introduction of the 6X and 10X variants.
With its Global 7000 model selling very strongly, and despite winding down production of its Learjet range last year, Bombardier expects to increase overall deliveries by "a minimum of 15%" in 2023, to "more than 138 jets", the Canadian company said in February. Chief executive Eric Martel describes it as "in a sweet spot" as the market continues to recover.
DEMAND DRIVERS
Gulfstream too is targeting a 20% boost in 2023 deliveries, to 145 jets, helped by the expected certification of its G700 in "mid-2023". Meanwhile, Textron Aviation said in January that signs of a slowing in business aviation activity did not reflect in a "material change" in demand for the Wichita-based company's aircraft.
For the airframers, meeting production targets rather than drumming up demand has been the biggest challenge for the past 12 months or so, as shortages of materials prompted by Russia's invasion of Ukraine and shutdowns in China, combined with skilled workers failing to return to the workplace after the pandemic, have bedevilled suppliers everywhere.
Despite this, there are indications the situation might be improving. At its annual results briefing in March, Dassault chief executive Eric Trappier expressed confidence that the company would achieve its production targets in 2023, despite continuing delays in the delivery of components and raw materials. He said skilled labour shortages remained the "number one concern".
Not all believe that this brake on production as customers clamour for deliveries has been altogether a bad thing. In its 2022 results presentation, GAMA chairman Eric Hinson suggested that supply chain constraints helped impose a "governor" – or speed limiter – on what might be unsustainable demand and would stop the market overheating.
A healthy 2022 has left many upbeat about continuing recovery. Speaking at the recent British Business and General Aviation Association annual meeting in London, George Galanopoulos, chief executive of Luxaviation UK, described the previous 12 months as an "excellent year" during which "we've never seen so much demand – we even managed to raise our prices".
Rita Domkute, chief executive of Lithuanian-based operator KlasJet, reckons the private charter market will be 5-10% higher this year than in 2019. However, after the pandemic, not all are rushing to re-fleet. Alex Durand, chief executive of UK helicopter charter firm SaxonAir, says that despite a strong 2022, the company is "debating whether we reinvest or stay as we are".
Gregg Brunson-Pitts, founder of US brokerage Advanced Aviation Team, says 2023 has continued where 2022 left off with "lots of charter requests" from clients, who range from political campaign teams to financial institutions. The post-Covid re-opening of Asia and the return of big music and sport events has seen international travel requests "really pick up from the second half of 2022".
Brunson-Pitts says that what has changed going into 2023 is an increase in the availability of aircraft for charter, which he puts down to owners flying a little less and wanting to sweat their assets more amid concerns about the economy. "For the past two years, owners didn't really need us. Now they want to engage with us again," he says. "It's a return to normal service."
Perhaps one of the strangest phenomena of the recovery in 2022 was the shortage of used aircraft as supply-constrained manufacturers struggled to meet demand for new equipment, and buyers soaked up whatever assets were available on the market. However, there are signs that activity in the pre-owned sector is beginning to return to pre-Covid-19 patterns.
"When more than 10% of any model is on sale, it's a buyers' market. Under 10%, it's a sellers' market," says Steve Varsano, founder of prestige London aircraft brokerage The Jet Business. "Last year, it was 2-3% and that was skewed to older types. For some newer models, there was nothing available."
COMFORT ZONE
Varsano also detects "a return to normality" in 2023 because of wider economic uncertainties among potential buyers. "More jets are available and are not selling so quickly. It's what we are comfortable with," he says. "Last year was not a market we liked being in."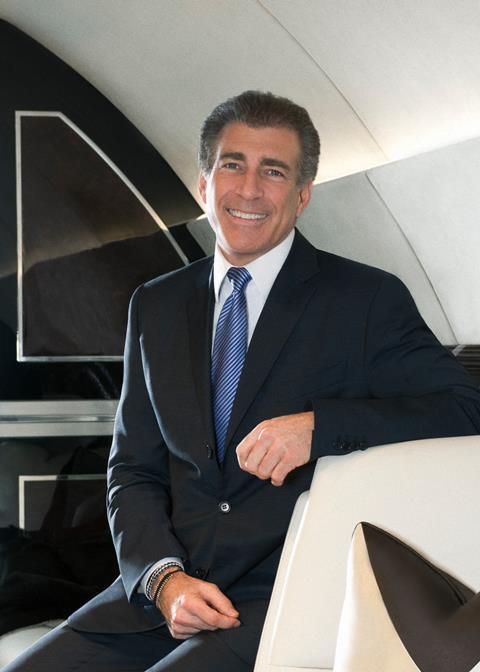 Zipporah Marmor, vice-president aircraft transactions at Canadian brokerage and charter specialist ACASS, and chair of the International Aircraft Dealers Association, agrees. "Buyers are becoming more rational. The frenzy of the last 12 to 24 months has calmed down a bit and we see this as healthy."
Other issues that will be in the spotlight at EBACE include how to meet carbon reduction targets, through short-term tactics such as using sustainable aviation fuel (SAF), or, longer term, adopting disruptive propulsion or transport technologies. Related to this is the question of how to deal with a growing movement that views private aviation as inherently damaging to the planet and society.
Some might view the "flight shaming" lobby as a tiny minority of vocal environmentalists, but mainstream media has been weighing in, criticising celebrities, politicians and other high-profile individuals for their use of private jets to travel short distances – sometimes while preaching the virtues of a green lifestyle.
The NBAA's long-running "No plane no gain" campaign sought to show how important business aviation is to a productive economy as a time-saving tool for entrepreneurs and other wealth creators. It may have convinced some, but now many believe the industry must change tack and prove it is taking serious steps towards putting its environmental house in order.
Expect announcements around the availability or take-up of SAF to be a major theme of EBACE this year. The event will see a Sustainability Summit take place over the first two days of the show, with sessions on how to increase the supply of SAF as well as carbon offsetting and how the sector can communicate its achievements better to the wider public.
Russia is another challenge for the industry. Western sanctions now prohibit any of the major manufacturers – or parts producers – from supplying Russian owners or operators. They have had an effect. In its 2022 results, for instance, Dassault said aircraft destined for Russia had represented up to 15% of its backlog in early 2022 – those aircraft will now not be delivered.
Business aviation may have had a gentler pandemic than its commercial cousin. It continued to fly those who could afford it but also – as restrictions began easing – attracted first timers. Many of those did not want to use airlines for health reasons, or because of cancellations and airport chaos as demand returned.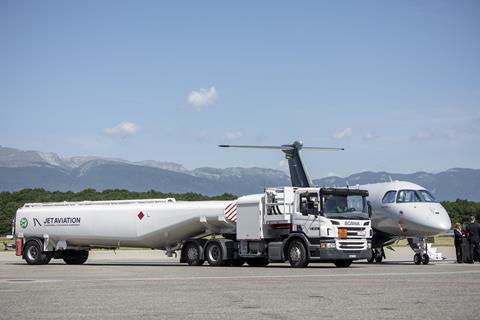 The stickiness of these business aviation newcomers as the airline market continues to improve its service post-pandemic is a big question for the industry in 2023. Fractional ownership and jet cards have been democratising business aviation for decades. However, frustrations with flying commercial saw many more seek out private flights last year.
While the half a million people with a net worth of at least $30 million will continue to be business aviation's core constituency, Varsano reckons at least some of those who formerly flew first or business class on scheduled airlines will remain loyal. "Once you realise a private aircraft is a time machine, it changes your life," he says. "You won't want to go back."