Slow progress by the short-staffed Federal Aviation Administration has prompted Gulfstream to push back until autumn its expectation of when the regulator will certificate the G700.
That is according to Gulfstream president Mark Burns, who on 22 May says the FAA is "under resourced. They are not fully back in the office. They are working remotely, mostly".
Burns, who made his comments in Geneva one day prior to the start of the EBACE business jet show, says the G700 has performed well in tests. He has previously noted that the FAA's certification process is taking longer in recent years due to increased scrutiny.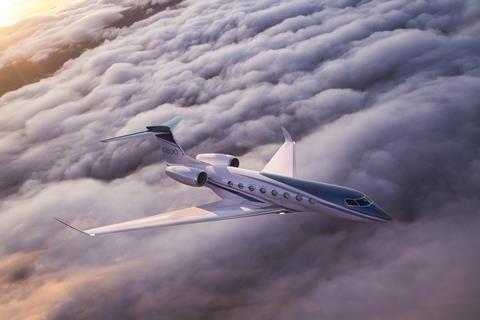 "It is a difficult process… It is taking much longer than I have anticipated," he says.
The company previously aimed to have the G700 approved this summer.
"I am hopeful it is in the fall. It's still a bit of a debate," Burns says, adding Gulfstream already finished most G700 certification flight tests. "We are essentially done. This is now up to the judge and the jury…We are a little bit at the mercy of our regulators."
The FAA did not immediately comment, but its leaders have conceded staffing shortages in some departments.
Burns says Gulfstream aims to have the 7,500nm (13,890km)-range G700 concurrently cleared by both the FAA and the European Union Aviation Safety Agency.
The slow progress is also pushing back certification of the 8,000nm-range G800, which Gulfstream previously anticipated would come six months after the G700 – meaning by end-2023.
Now, Burns says of the G800, "I would hope that we can get done [in the] early part of" 2024.
He stresses the G800's approval should be relatively quick and easy because Gulfstream will not need to perform many tests already completed by the G700. The types are sister ships, sharing avionics, Rolls-Royce Pearl 700 turbofans and other components.
"We've done all of the heaving lifting on the G700" using five flight-test aircraft, Burns says. Gulfstream plans to use just two G800s for that programme's certification.
The company recently completed three days of testing the G700's contaminated-runway performance at NASA's Wallops Flight Facility in Virginia. That effort involved "touchdown and taxi manoeuvres in standing water at take-off and landing speeds ranging from 60 to 120 knots".
Also, "the G700 demonstrated excellent stability and control in take-off, landing and climbing during field performance and flying qualities trials during two months of testing at Cecil Airport in Jacksonville, Florida," it adds.
Certification headaches aside, Gulfstream insists demand for G700s and G800s remains robust, with G700 delivery slots sold out until late 2026.
"The airplane is better than we advertised," Burns says of the G700.
Gulfstream is showing off its line up this week at the EBACE business jet show in Geneva, with the G800 making its first appearance here. Its other types at the show include a G280, G500, G600, G650ER and G700.
The company intends to kick off G400 certification work as soon as it completes the G800 programme. Burns expects Gulfstream will get its G400 airborne "later this year". It aims to deliver the first of the 4,200nm-range jet in 2025