India has emerged as an area of network opportunity for a number of Southeast Asian carriers, with at least two operators ramping up capacity in recent weeks.
It comes as travel reopening in the region gets underway in earnest, after more than two years of shut borders.
Furthermore, with China still largely shut to international travellers, airlines once dependent on the Chinese travel market are gradually shifting their focus to other regions, including India.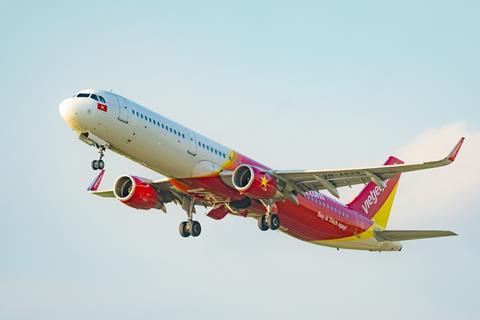 Vietnamese low-cost operator Vietjet Air announced on 18 July a slew of new routes into India, from its three hubs of Hanoi, Ho Chi Minh City, as well as Da Nang.
The 11 new routes will link Vietnam with cities in India such as Ahmedabad, Delhi, as well as Bengaluru.
Once all new flights are operational by the last quarter of the year, Vietjet is set to be Vietnam's largest operator into India, in terms of network and capacity.
Says airline vice president Nguyen Thanh Son: "Vietjet has been the first airline launching direct flights between Vietnam and India since 2019 and has constantly expanded its operation to the world's second most populated country. As the world reopens to travel and feedbacks on our current India-Vietnam routes are excellent, we now prioritise to expand and increase flight operations to India."
On the same day, Malaysia's Batik Air announced it would be resuming flights to three Indian cities – Mumbai, Kochi and Bengaluru – from August, "in response to the robust demand for air travel to the cities in India".
The developments follow a 6 July announcement from Singapore Airlines on a sweeping network capacity ramp-up, including to India.
The Star Alliance carrier said it would by end-October be operating at close to pre-pandemic capacity to India. This follows increases in operational frequencies to three Indian cities: Chennai, Kochi and Bengaluru.
As early as April, airlines such as Thai Airways as well as AirAsia in Malaysia, already announced a ramp-up of flights to India.
Thai Airways and its regional unit Thai Smile have resumed daily flights to several Indian cities, including Delhi, Chennai, Bengaluru and Kolkata.
The two carriers note the "high potential" of the Indian market: in pre-pandemic 2019, more than 1.9 million Indian tourists visited Thailand, an increase of nearly 25% year on year. For Thailand, the shift to the Indian market is also critical, as China, its main tourist source market, remains shut.
As for AirAsia, it announced the restoration of flights to six Indian cities in April, including Kochi, Kolkata and Tiruchirappalli.
The ramp-up takes the Malaysian carrier's Indian frequencies to 71 weekly flights by end-2022. It added that it was on track to achieve pre-pandemic capacity for its India operations.
Story updated to include Batik Air Malaysia's network resumption plans.