The appearance of coronavirus cases in the Vietnamese city of Da Nang has resulted in a major airlift effort, and will derail Vietnam's air travel recovery.
Vietnam has been a significant success story in dealing with the pandemic, having enjoyed over 100 days without a recorded coronavirus case. This allowed domestic air traffic to pick up and resulted in a domestic tourism boom.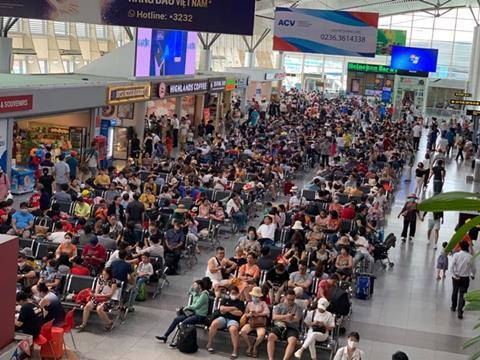 On 25 July, however, a case was confirmed in Da Nang, with the number rising to 20 confirmed cases in the area. A local lockdown has ensued, as well a major airlift effort on the part of Vietnam's airlines to repatriate domestic tourists.
The Civil Aviation Authority of Vietnam (CAAV) has allowed airlines to boost flights to Da Nang in a bid to clear some 80,000 tourists, and is allowing the use of widebody jets, namely Boeing 787s operated by Vietnam Airlines and Bamboo Airways, as well Vietnam Airlines A350s.
The CAAV estimates that it will take up to four days to evacuate tourists. Returnees from the city will be subject to testing and quarantines.
In addition, authorities have ordered airlines to stop taking new passengers to the city for 15 days. VietJet has announced that it will cancel flights to Da Nang from 28 July to 11 August. Vietnam Airlines is allowing passengers with bookings to the city from 25 July to 31 August to rebook for free on new flights up to 31 October.
After Covid-19 emerged in the Chinese city of Wuhan in late 2019, Hanoi was among the first countries to stop travel with the Mainland. Subsequently it imposed a two-week lockdown in April. This was accompanied by aggressive contact tracing and strict quarantines. Including the Da Nang cluster, Vietnam has recorded just 431 cases, of whom 365 have recovered. There have been no deaths.
As such, Vietnam has been among the least affected countries. For the last two months, its domestic travel market is among the few bright spots for the region's airlines.
Cirium schedules data indicates that in April 2020 capacity as measured by seats fell 81.7% year on year on the Ho Chi Minh City-Da Nang Route. By June, however, capacity on the route had recovered markedly, and was down just 22% from June 2019.
Similarly, April 2020 seats on Hanoi-Da Nang were down 81% from a year earlier, but by June they were only down 18% from a year earlier.
The outbreak is likely to be a setback for resumption of international travel to the Southeast Asian country. On 23 July, two days before the first Da Nang case, Hanoi announced that it was considering the resumption of commercial flights with "several countries," and specified South Korea – a major source of both tourists and investments in Vietnam.
On 13 July, the prime minister had tentatively cleared China flights, opening the way for discussions on a travel resumption between the two countries.