Hawaiian Airlines will reinstate flights to the mainland USA in August, as the state of Hawaii begins to lift its draconian restrictions on movement within the islands as well as between the islands and the airline's main destinations on the west coast of North America.
The Honolulu-based carrier says on 1 July that it will introduce limited service to its mainland gateways when the state begins reopening to tourism, a major economic driver in the state. On 1 August, Hawaii will begin to waive its 14-day quarantine requirement for travellers who test negative for the coronavirus prior to departing.
As a result, Hawaiian will soon be be operating 252 weekly flights connecting the state to the US mainland and 114 daily flights within the Hawaiian Islands.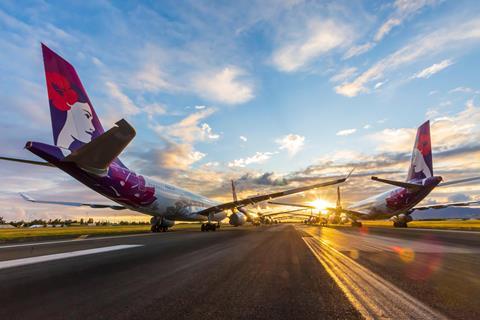 "The layered safety measures put in place to protect the health of our local communities promise to make travel to and from Hawaii more accessible than in recent months," says Peter Ingram, Hawaiian's president and chief executive.
The state of Hawaii, an archipelago in the Pacific Ocean about 2,000nm (3,800km) southwest of California, imposed strict travel restrictions including a 14-day isolation requirement for anyone who traveled between the islands, or inbound to the islands from elsewhere.
Hawaiian says its flights between Honolulu and Boston as well as New York - two of the longest domestic flights in the world - will be included in this first wave of expansions. Las Vegas, Phoenix, San Jose and Oakland will also be reachable directly from Honolulu. It will also reintroduce flights from the mainland to some neighboring island destinations including Maui, Kauai and Hawaii Island.
Hawaiian had suspended most of its operations in March after the pandemic reached global scale and the state imposed the quarantine measures. It has been flying a reduced schedule between the islands and once-daily service to Los Angeles, Seattle and San Francisco. Additional once-daily connections from Honolulu to Portland, Oregon, as well as San Diego and Sacramento, California, are slated to begin in July.