Hawaiian Airlines' second quarter ended with a loss of $107 million after its home state's strict travel restrictions prevented it from doing any meaningful business for much of the three months ending in June.
Total revenue dropped 91% to $61 million as capacity during the quarter fell more than 92%.
"Second-quarter results reflect the continued impact of Covid-19 and state of Hawaii quarantines on our business," Peter Ingram, the airline's president and chief executive, tells analysts on the company's quarterly earnings call on 28 July. "In the face of these unprecedented challenges, we have taken action to preserve and raise cash and are crafting plans to position us for the future even as we address the immediate adversity."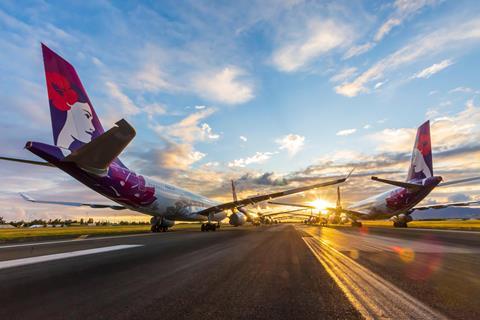 As a result of the downturn in the industry, Hawaiian also says it is in talks with Boeing to delay the arrival of its long-awaited 787 Dreamliners.
The state of Hawaii, an archipelago in the Pacific Ocean about 2,000nm (3,800km) southwest of California, early on imposed travel restrictions on inbound and even on inter-island travellers in order to slow the spread of the highly-contagious virus.
These included a 14-day isolation requirement for anyone travelling to the islands from elsewhere or between the islands. As a result, the Honolulu-based carrier was forced to operate what it calls an "extremely limited schedule". The Hawaii quarantine, says Ingram, had "the single-greatest impact" on the airline during the quarter, and it continues to hamstring the carrier.
The quarantine for inter-island travel, imposed on 1 April, was lifted on 16 June. But restrictions remains in effect for travellers arriving from outside the islands.
Initially, the rule would have been eased for inbound travellers on 1 August, provided they tested negative prior to arrival. However, that date has now been pushed to 1 September after cases spiked in several of Hawaiian's key visitor markets, including California, Nevada and Arizona.
Throughout the past four months, the airline had maintained one daily round-trip each between Honolulu and just two cities on the US mainland – Los Angeles and San Francisco – and earlier this month announced plans to reinstate other flights between the US West Coast and the islands.
But now, Hawaiian has no choice but to resize its operation accordingly. The increase in August capacity was scaled back, says Brent Overbeek, senior vice-president for revenue management and network planning. The airline now expects to fly about the same schedule it had been flying in July. That July capacity will be about 86% below that flown in July 2019, with August capacity 85% lower than the same period last year, he adds.
LONG-TERM ECONOMIC EFFECTS
Extension of quarantine requrements into fall is a harsh blow to the islands' tourism-based economy which has, in effect, missed out on the entire summer holiday travel season.
"The economic consequences are very long term and some of this is going to be difficult for the state to recover from over the next several years," Ingram says. "It's now a lot more clear that this is going to take longer to build out of. Back in March and the early part of April there was a lot of talk about a V-shaped recovery. If it is, this is the flattest V I have ever seen."
As of 30 June, Hawaiian had received $214 million in government grants and $49 million in loans from the CARES Act. That bill set aside a total of $58 billion for US commercial airlines, to help them manage through the liquidity squeeze that came as a result of a dramatic drop in passenger demand when the crisis began. In return, airlines agree to issue no involuntary furloughs or layoffs until after September.
With that deadline fast approaching, unions and airlines have spoken out in favor of extending the provisions for at least six more months, in order to give the industry more time to recover and thus mitigate the job losses.
A second bill, dubbed "CARES-2" or "CARES-2.0", is currently making its way through the US government, and could alleviate some of the fears of mass layoffs come October.
"We are all keen to get moving forward, but in a world where the restrictions on a CARES-2.0 are no different from what we saw in the first version of CARES," Ingram says. "I think it's pretty clear that the number of involuntary job losses in the industry would be a lot lower at the end of March than they would likely to be at the end of September."
He also says if there is no prospect of further government assistance, the company will likely need to issue so-called WARN notices to an unspecified number of employees in the coming days. The letters inform workers that their jobs may be in danger. It is a federal requirement to give staff a 60-day notice in the case of potential mass layoffs.
Hawaiian Holdings, the airline's parent company, also says on 28 July that it added two new members to its board: Jayne Hrdlicka, former chief executive of Australia-based Jetstar Group, and Michael McNamara, executive vice-president and chief information officer of Target Corporation.