LATAM Airlines Group and Delta Air Lines have revealed a host of new routes under a joint venture approved by the US Department of Transportation (DOT) in September, adding 23,000 seats weekly between North and Latin America.
Santiago-based LATAM said on 23 November that its Brazil subsidiary will fly thrice-weekly between Sao Paulo and Los Angeles beginning on 1 July 2023 and using Boeing 777s with capacity for 410 passengers. The route is currently not served, the airlines say.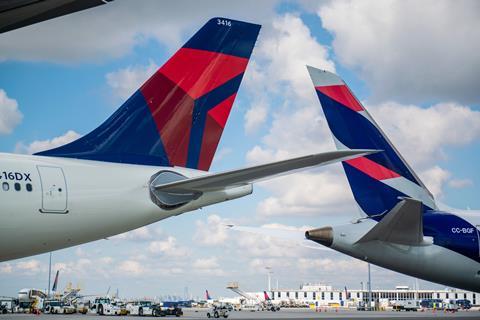 "Passengers will be able to connect from LATAM's hub in Sao Paulo to destinations in LATAM's South American network, in addition to connections to the different destinations served by the group," the carriers say. "Customers flying to Los Angeles will be able to quickly connect to several popular Delta West Coast destinations, including San Francisco, Las Vegas and Seattle."
LATAM will be flying other routes more frequently.
Beginning in September 2023, it will operate two additional flights between Santiago and Los Angeles, bringing the number of flights between the cities to five-times weekly. LATAM's Sao Paulo-Orlando service will increase to four-times-weekly in August, its Lima-Miami route will increase to 17 times weekly from 14, Lima-New York service will expand to 12 flights weekly from seven, and Lima-Los Angeles flights will increase to 14 weekly from seven.
Delta, meanwhile, is adding international and domestic flights, including from Atlanta to Santiago, Sao Paulo and Rio de Janeiro, and a New York-to-Sao Paulo daily flight. Even with the flights, Delta will still not operate the routes as frequently as it did in years before the pandemic, Diio data shows.
Delta will launch new daily service between Miami and Orlando, and Miami and Los Angeles, in December, the carrier says. The airline's Atlanta-to-Lima connection will upgrade to an Airbus A350, adding more than 1,700 seats per week on that route.
In September, the DOT gave its long-awaited approval of antitrust immunity to the joint venture between Delta and LATAM, which the companies had pursued since mid-2019. It was approved by Chilean competition authorities in October 2021.
The partnership will see the carriers operate flights under each other's flight codes between, within and beyond their home countries. It includes flights operated by Delta Connection's US regional affiliates SkyWest Airlines, Republic Airways and Endeavor Air.