LATAM Airlines plans to launch a new daily route from Orlando to Bogota, Colombia on 1 July as part of its recently approved joint venture with Delta Air Lines.
The nonstop route between Orlando and Colombia's capital will be operated with a 174-passenger Airbus A320 in a journey lasting four hours and 15 minutes, Delta said on 30 January.
"We will boost our presence in the North American market with the aim of becoming the best option for passengers from that region who wish to travel to Colombia and the other South American countries that are part of the agreement," says Santiago Alvarez, CEO of LATAM Airlines Colombia.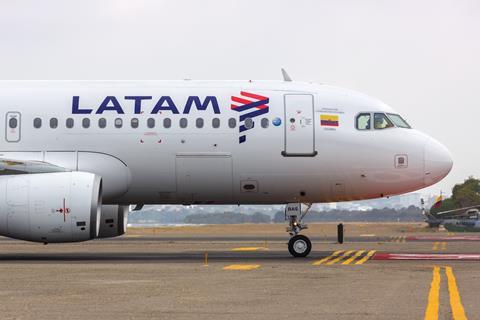 The US Department of Transportation granted antitrust immunity to the joint venture between Delta and LATAM in September 2022. The deal had been more than three years in the making.
The companies say they now "work closely to create the leading airline partnership between the United States/Canada and South America" in a partnership that encompasses flights to Brazil, Chile, Colombia, Paraguay, Peru and Uruguay and more than 300 destinations.
"Through the joint venture with Delta, we will improve our presence in the United States market, which continues to be one of the most important international destinations for Colombian passengers," Alvarez adds.
LATAM Colombia currently operates between Bogota and Miami as it seeks to expand its international network. Santiago-based LATAM said on 23 November that its Brazil subsidiary will fly three times a week between Sao Paulo and Los Angeles beginning on 1 July 2023, using Boeing 777s with capacity for 410 passengers.
Meanwhile, Delta's network includes daily flights from Atlanta and JFK International Airport in New York to Bogota.