Paris airports operator Groupe ADP is to work on a new development plan for Charles de Gaulle airport after the French government scrapped its existing Terminal 4 project.
French ministers had in the summer indicated the plan to develop the additional capacity was being reviewed given the predictions for a slow return in air travel following the pandemic.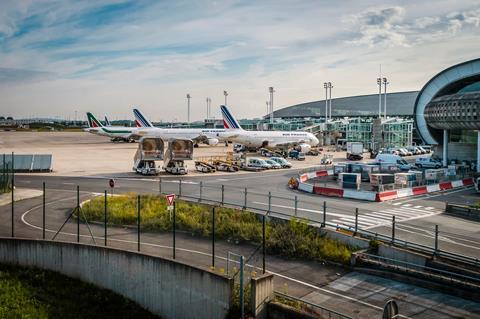 Now it has confirmed it is shelving the project, both on capacity and environmental grounds. "The government has asked [Groupe] ADP to abandon its project and present it with a new one, more consistent with its objectives of combating climate change and protecting the environment," French minister for ecological transition Barbara Pompili tells Le Monde.
Group ADP confirms the government has asked it to present a new development project for the French hub.
Group ADP chairman and chief executive Augustin de Romanet says: "Air travel must accelerate its energy transition. We must draw the proper conclusions from this in our future projects.
"Following the state's decision to request Groupe ADP to abandon the current Terminal 4 project, as well as to submit a new project for the evolution of the Paris Charles de Gaulle platform, Groupe ADP is engaging in a period of reflection on the airport's future concerns."
Groupe ADP says a review of the initial project has been undertaken in months to adapt to new traffic assumptions and to better address the sector's environmental transition issues. "This work, led by Groupe ADP teams, will lay ground to future thinking on the development issues for the Paris-Charles de Gaulle platform," it says.
The Terminal 4 expansion project would have added capacity for an extra 40 million passengers annually. Charles de Gaulle was the second busiest airport in Europe and ninth in the world in 2019, handling 76 million passengers. But that fell to just 22.3 million in the pandemic-hit 2020. The group, which also operates other airports including Paris Orly, believes traffic levels at its Paris sites could take until 2027 to return to pre-Covid-19 levels.
France is actively pushing tighter environmental targets for air transport, evident last year in the conditions attached to the granting of state aid to Air France.
Groupe ADP earlier today announced it was working with Airbus, Air France-KLM and other French entities to explore the use of hydrogen at Parisian airports. These partners are jointly issuing a "worldwide call" for expressions of interest in the exploration of hydrogen and the transformation of airport infrastructure to take into account the emergence of hydrogen as a fuel.
France's government previously unveiled an aerospace strategy which focused on the development of zero-emission aircraft by 2035, and Airbus has been directing its efforts towards the potential of hydrogen power. The Paris region also adopted a 'Hydrogen Plan' in late 2019.