Airbus and Air France-KLM are joining airports operator Groupe ADP and other French entities to explore the use of hydrogen at Parisian airports.
They are seeking projects focused on storage and distribution of gaseous and liquid hydrogen within airports, options for hydrogen recycling, and diverse uses of hydrogen in aeronautics – such as its application to ground operations and infrastructure energy supply.
The aerospace organisations and the French capital, supported by governmental promotional agency Choose Paris Region, state that they intend to build a "unique" airport eco-system centred on hydrogen and establish the city's airports as "hydrogen hubs".
These partners are jointly issuing a "worldwide call" for expressions of interest in the exploration of hydrogen and the transformation of airport infrastructure to take into account the emergence of hydrogen as a fuel.
Selected projects, following the closure of a 19 March deadline, will be disclosed at the end of April.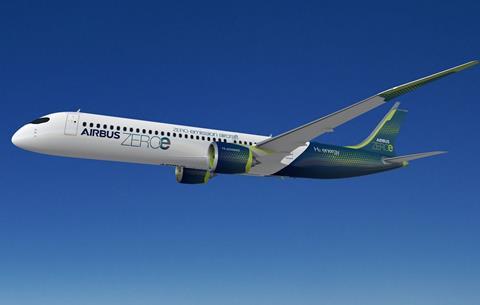 France's government previously unveiled an aerospace strategy which focused on the development of zero-emission aircraft by 2035, and Airbus has been directing its efforts towards the potential of hydrogen power. Paris Region also adopted a 'Hydrogen Plan' in late 2019.
The advent of hydrogen, the partners state, will "revolutionise" the way airports are designed and operated.
Their vision of the future hydrogen-based airport eco-system will also encompass large and small companies, start-up enterprises, laboratories and universities.
"Airbus is determined to drive a bold vision for the future of sustainable aviation, and to lead the transition to zero-emission commercial flight," says Airbus executive vice-president of engineering Jean-Brice Dumont.
"Hydrogen is the one of the most promising technologies that will help us meet that objective. But we won't be able to do it alone."
The partners' initiative aims to identify advances in technology and research and test economically-viable solutions to the issues of using hydrogen on a large scale at airports.
"We must prepare today to welcome the hydrogen aircraft in 2035 by transforming our airports into real hydrogen hubs, in which we wish to develop various uses, with our stakeholders, around airside and city-side ground mobility," says Groupe ADP deputy chief Edward Arkwright.
Air France-KLM executive vice-president, corporate secretary, Anne-Sophie Le Lay says the introduction of new energy sources is "fundamental" to shift towards "more sustainable and responsible" air transport.