Australia's Regional Express has axed a number of regional routes – the second network reduction in a week – as it seeks to "improve" its financial performance.
Rex on 30 May confirmed it would stop flying to four cities in New South Wales state – Bathurst, Grafton, Lismore, as well as Kangaroo Island – from 30 June. It will exit Ballina, another regional city in New South Wales, from 2 July.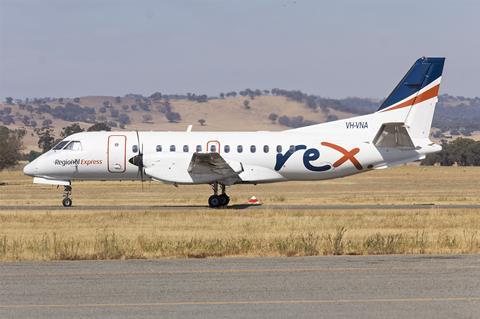 The move coincides with the end of the Australian government's regional airline support scheme, which subsidises regional operations.
Rex says two other routes in the same state are "pending further review", and that "further adjustments" to the wider regional network are likely in the coming months.
The carrier doubled down on criticism of arch-rival Qantas, accusing the national carrier of "bullying and heartless behaviour" that led it to exit the five routes, which it has served for over 20 years.
The latest cuts come barely a week after it announced it was axing Sydney-Canberra from its domestic network. The route was first launched in April 2021, as part of the airline's expansion into mainline domestic operations.
Rex began operating Sydney-Canberra with Saab 340 turboprops, but had signalled its intentions to expand to jet aircraft.
The carrier blamed high airport charges imposed by Sydney Airport, as well as the decision of rival Virgin Australia to launch Sydney-Canberra flights, for the decision.
"The resources will be diverted to other routes which will provide a better return," the airline stated.