The past year has presented airlines with challenges including opportunities to rethink previous norms, in order to embrace the creation of additional revenues. The global capacity demand due to the pandemic sparked creative action by airlines all over the world to utilize the cabin for cargo as well as the belly—to meet customer demand and capture as much cargo business as possible to augment the revenue gap.
And while today's air cargo business is built largely around the transport of palletized or containerized freight for intermediaries, growth in e-commerce shipping is presenting an entirely new business proposition for airline cargo operations. One that is particularly well suited to maximizing profitability on the airline's domestic flights.
The challenge today is how airlines can mitigate current and future revenue gaps to meet their financial projections. New e-commerce revenues can flow into the airline's top line with e-commerce package volumes transported and delivered, from the online shopping site to the customer's door.
Growth of E-Commerce
The growth of e-commerce has skyrocketed worldwide, fueling the already growing shift away from brick-and-mortar shopping. As a result, retailers are closing stores and reducing inventory—instead directing consumers to online options. Growth in global e-commerce sales has skyrocketed recently, with expectations of $4.89 trillion in global sales projected for 2021. This opportunity is estimated to expand even more over the next few years as e-commerce sales are projected to grow at a CAGR of 6.4% to a projected $6.4 trillion globally in 2024.
Retail e-commerce sales Percentage of change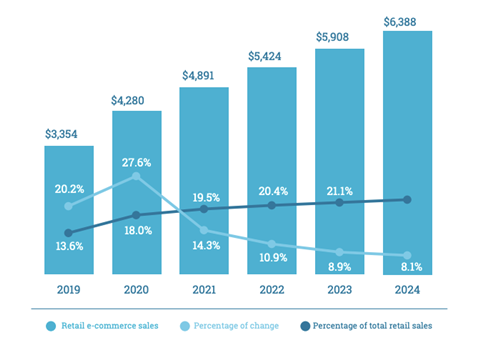 Note: Includes product or services ordered using the internet, regardless of the method of payment or fulfillment; excludes travel and event tickets, payments such as a bill pay, taxes or money transfers, food services and drinking place sales, gambling and other vice goods sales
Source: eMarketer, Dec 2020
With this growth comes a potential windfall in new revenue for airlines who embrace e-commerce shipping. Since consumers expect to receive their purchases fast, retailers are seeking shipping by the fastest mode of transportation to stay competitive with the online giants like Amazon.
This shift to online shopping increasingly requires speedy shipping options. And this requirement puts airline transport at a huge advantage over other modes of transportation. In addition, consumers are increasingly willing to pay a premium for faster shipping options from their online retailer.
Generate New Revenue on Existing Cargo Capacity
An airline's fleet of aircraft poised to transport these high-yield e-commerce packages. Daily scheduled service and multiple frequencies in key markets uniquely position them to meet this consumer demand for fast shipping and delivery. And e-commerce packages, usually averaging 1-10 kilos in weight, are a perfect fit for an airline's fleet across all aircraft types.
By filling the underutilized belly-space that often exists on narrow-body flights, the airline cargo revenue can be greatly increased. SmartKargo technology allows an airline to move this higher-yield cargo, which is suitable for loading on any airplane type in the fleet.
How to Capture Higher Yield Cargo
Until now, most airlines have captured only a small fraction of e-commerce shipping revenue by selling cargo space to intermediaries at low, general cargo rates. When cargo space is purchased by these intermediaries, airlines usually charge lower general cargo rates for the transport. On the other hand, rates for the integrated shipping of e-commerce packages are notably higher, resulting in higher margins on flight capacity.
The E-Commerce Logistics Ecosystem
The innovative technology automates the e-commerce logistics ecosystem beginning with the online transaction at the online shipping site. The ecosystem is connected at every facet of the shipment journey. Within the cloud technology platform, EDI messaging facilitates communications between all parties and governs each shipment's SLA. The platform provides real-time transparency of shipment data across all segments of its logistics journey— from the e-commerce transaction to the consumer's front door.
SmartKargo in Action: Azul Brazilian Airlines
The use case of Azul Brazilian Airlines demonstrates how an airline has implemented the SmartKargo solution in conjunction with the airline's overall strategic objectives—toward building a long-term cargo solution for their flight network. With focus on the high-growth e-commerce market, they were able to increase cargo revenue by 65.9% in a single quarter and target a "forty percent year-over-year, cargo revenue growth."
This unbelievable growth has landed them the dominant market share of e-commerce shipments in Brazil (60%), where they have surpassed the largest integrators, namely the giants like FedEx and UPS, in the region. The business has added significant revenue to their top line, even during the pandemic. Azul has become an established market creator and a positive force in the Brazilian market as one of the biggest e-commerce logistics players in Latin America.
API and EDI-enabled E-Commerce Solution
SmartKargo supports both air-to-air and door-to-door business models by facilitating easy integrations with e-commerce sellers. SmartKargo can establish an e-commerce platform where one does not exist or leverage the advantage of our cloud platform to extend your current system. Our innovative "wrap and extend" approach in working with an airline's existing cargo system is fast and inventive.
To implement the e-commerce solution SmartKargo deploys a team of seasoned airline, technology, and e-commerce experts to integrate and establish business processes alongside the airline cargo team. The innovative solution provides a fast start to generating e-commerce revenue.
Breakthrough Success
Just as airline ticketing technology evolved almost two decades ago to enable direct connections between the passenger and the airline's ticketing distribution network—SmartKargo technology now provides a similar business solution for the cargo business to transform efficiency and increase revenue. Only airlines can guarantee the speed that customers expect. Moreover, airlines are already experts in cargo security, planning and ground coordination—all needed aspects of e-commerce success.
Flexible and Cost-Effective Approach
As we have seen during the past year, our partners have been able to respond to this e-commerce growth offensively and recognize top-line revenue from high-yield e-commerce package transport. Our solution offers them a relatively low cost of entry, coupled with high revenue potential.
In the end, you can think of the SmartKargo technology platform as a key revenue engine for your airline—one that can be built, extended and operated with little upfront costs. And importantly, the solution can be implemented in as little as 3 months.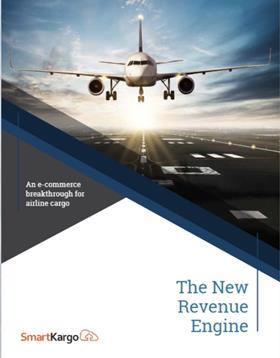 In a very short timeframe, your airline could be realizing robust new streams of revenue from e-commerce cargo. Download our e-book to learn more today.

SmartKargo delivers advanced digital technology to facilitate the efficient digital transformation of an airline's cargo business. With deep expertise in air cargo, technology and e-commerce, SmartKargo empowers airlines to open new revenue streams through e-commerce package shipping and delivery, as recently featured in Forbes. The company is headquartered in Cambridge, Massachusetts (in what The New York Times called "the most innovative square mile on the planet"), with key offices in India, Philippines, Brazil, and Canada.
View full Profile