The Federal Aviation Administration has awarded more than $100 million to 12 airports across the USA for projects that are designed to reduce runway incursions.
The US aviation regulator said on 22 May that these projects include reconfiguring taxiways, adding airfield lighting or constructing new taxiways "to provide more flexibility on the airfield".
The FAA has been under fire for numerous high-profile near-accidents earlier this year when aircraft had narrowly avoided collision during ground operations.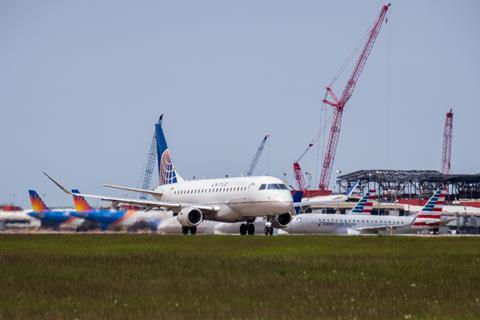 On 13 January, an American Airlines Boeing 777, operating as flight 106 to London-Heathrow, crossed an active runway just as a Delta Air Lines aircraft began a takeoff roll on the same runway. A tragedy was averted when controllers told the Delta pilots to abandon their take-off. The aircraft came to a stop shortly before the taxiway intersection.
A few weeks later, on 4 February, in Austin, Texas, a FedEx Boeing 767-300ER Freighter had been cleared to land on the same runway that a Southwest Airlines Boeing 737-700 was cleared to depart from. The FedEx jet descended as low as 150ft above ground before breaking off its approach.
These and other incidents prompted the FAA to call a "Safety Summit" on 15 March for stakeholders to discuss how to improve aviation safety, especially on the ground. So far this year, the FAA has logged 621 runway incursions. For the full year 2022, 1,696 runway incursions were logged by the US regulator.
"Some airfields have complex layouts that can create confusion for pilots and other airport users. This funding will reconfigure complex taxiway and runway intersections to help prevent incursions and enhance the safety of the National Airspace System," says FAA associate administrator Shannetta Griffin.
Airports receiving the additional funding include Miami International, Las Vegas' Harry Reid International, San Diego International, Tucson International and Pensacola International, among others.
The FAA's runway incursion mitigation programme was initiated in 2015 and strives to "identify airports that have risk factors that might contribute to runway incursions". Those can include taxiway complexity and airfield layout.
The funding for the airport improvements come from "several sources", the FAA said, with the agency's airport improvement programme and bipartisan infrastructure law among them.