Boeing has confirmed plans to conduct ski-jump take-off tests with the F/A-18 E/F Super Hornet during the first quarter of 2020.
Jeff Shockey, vice-president global sales and marketing at Boeing Defense, Space & Security, says the trials are being driven by an Indian navy fighter requirement.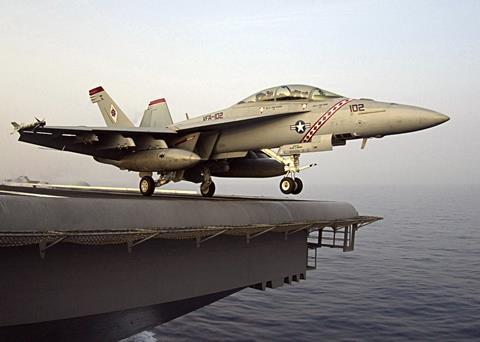 India's only carrier, the INS Vikramaditya, is equipped with a ski-jump ramp to launch aircraft, as is a second carrier - the INS Vikrant - that has yet to enter service.
In US Navy service the Super Hornet is launched by catapults, a capability that could feature on a proposed third Indian aircraft carrier.
"The [ski-jump] testing is going to take place sometime in the first quarter at [NAS] Patuxent River," says Shockey.
New Delhi has a requirement for 57 carrier-borne fighters - a contest which will pit the Super Hornet against the Dassault Rafale.
In addition, the Indian Navy has elected to proceed with an ambitious all-new twin-engined carrier-based fighter, abandoning its proposed Hindustan Aeronautics LCA Navy MkII.