Boeing believes possible upgrades to its P-8 maritime patrol aircraft, including the integration of new anti-ship cruise missiles, bombs, sea mines and decoys, among other payloads, could help it increase international sales potential.
The US Naval Air Systems Command solicited potential contractors on 28 January to integrate a variety of weapons on the aircraft via a request for information notice posted online.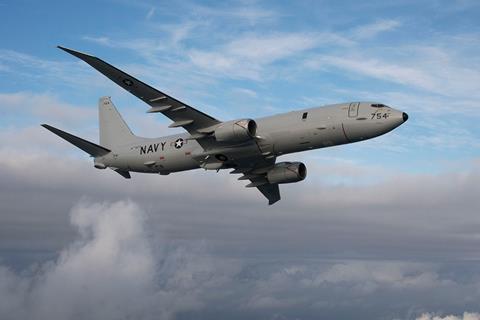 "The capability opportunities for the P-8 are quite endless," says Tim Flood, senior manager for international sales of commercial derivative aircraft, at the Singapore air show. "So by adding the capabilities, whether it be weapons or new sensors, that opens up that aperture for greater demand."
The P-8 is based on the commercial 737-800, but its airframe has been ruggedised. That means it wouldn't take much modification for the aircraft to carry new weapons, especially on its wing pylons, says Flood.
"There's no real modification required," he says. "It's more of an airworthiness certification process."
Flood declines to say what nations are potential customers in Asia. Boeing is awaiting finalisation of a contract with New Zealand for four examples of the P-8 and another contract with South Korea for six examples.