Alaska Air Group narrowed its loss in the second quarter of 2021, as passenger demand rose in line with the entire air transport industry.
The Seattle-based company, parent to Alaska Airlines and Horizon Air, says on 22 July that it notched a $397 million profit, which included federal payroll support, compared to a net loss of $214 million in the same quarter in 2020. Without the financial aid, the company said it lost $38 million during the period.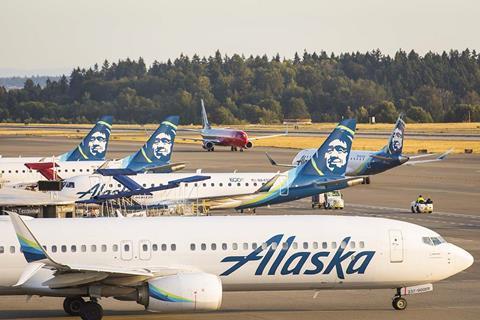 Alaska reported quarterly revenue of $1.5 billion, that's up from $421 million during the same quarter of coronavirus-plagued 2020. In 2019, that figure was $2.3 billion.
"As we put the worst of last year's downturn behind us, Alaska is back on the path to profitability," says chief executive Ben Minicucci. "We are executing our plan, rebuilding our network, leveraging our capacity to meet growing demand, and delivering exceptional service and value to our guests."
Its operating expenses in the second quarter were $978 million, 38% higher than last year.
Alaska carried 8.7 million passengers in the second quarter of 2021, almost six times as many as in the same three months a year ago, which was the worst quarter for most US airlines, their business destroyed by the beginning of the global Covid-19 crisis.
Additionally, during the period that ended on 30 June, the airline said it would exercise options for 13 Boeing 737-9 Max aircraft, with deliveries scheduled for 2023 and 2024, and nine Embraer 175s to be operated by Horizon Air with deliveries during the same years.
It also expanded a long-term capacity agreement with SkyWest Airlines by eight aircraft, to be delivered in 2022.