Allegiant Travel Company, parent of Allegiant Air, rode high demand for leisure travel to a profitable fourth quarter of 2022, capping a year marked by significant operational challenges.
Allegiant posted a $53 million profit in the final quarter of last year, compared with $11 million in the three months ending on 31 December 2021.
The Las Vegas-based carrier generated $612 million in revenue in fourth quarter 2022, up 23% from $497 million in the same three months in 2021.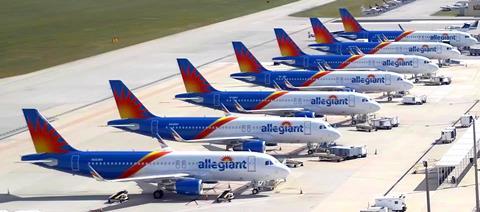 "We have great momentum heading into 2023," John Redmond, Allegiant's chief executive, said during the company's quarterly earnings call on 1 February. "Underpinning the strong financial performance is a robust demand environment that shows no signs of slowing."
For the full year 2022, Allegiant generated a company-record $2.3 billion in revenue, up nearly 35% from the $1.7 billion it reported in 2021. With operating expenses increasing 53% year-on-year, as well as the airline taking a financial hit in due to a weather disruptions in Florida, the carrier squeezed out a $2.5 million profit in 2022, compared with $152 million in the 12 months ending 31 December 2021.
"2022 was yet another difficult year," Redmond says. "The operation was hit with countless challenges from Covid spikes to hurricanes, and most recently winter storms."
In November, Allegiant had said that Hurricane Ian, which crossed the Florida peninsula in the last week of September, had cost the company almost $40 million.
In 2022, Allegiant's capacity increased nearly 14% over 2019, the last year unaffected by the Covid-19 pandemic.
Looking ahead, Allegiant is "continuing to take a more conservative approach to growth", anticipating a 4% capacity increase in 2023 "with much of that happening in the fourth quarter", the airline says.
Allegiant is also pressing forward with its proposed alliance with Mexico's Viva Aerobus, which would give customers access to each airlines' respective loyalty programmes, sales systems and route networks to operate flights together. The deal has been approved by Mexico's Federal Economic Competition Commission but still needs the go-ahead from federal regulators in the USA.
"We still expect all the necessary approvals will be in place… in the first half of this year," Redmond says of the potential tie-up.
Meanwhile, Allegiant continues negotiating a new contract with its pilots' union. "We will look forward to working collaboratively on an agreement that our pilots are proud to support while providing the company with the ability to continue to fly a safe and reliable operation and remain in position to grow profitably," Redmond says. "It is our expectation to have an agreement in principle done by mid-year."
The airline recently shuffled its executive leadership team, accepting on 27 January the resignation of co-president and chief operating officer Scott Sheldon. Greg Anderson has assumed full responsibility of the president's role, including oversight of the airline's operational teams.
Meanwhile, several other C-suite executives were assigned new roles on 30 January. Notably, Robert Neal assumed the responsibilities of chief financial officer from Anderson.
In January 2022, Allegiant ordered 50 Boeing 737 Max jets and took options for a further 50 airframes. The carrier expects delivery of its first two 737 Max 8s at the end of 2023 and says the jets will likely enter service in early 2024.
Allegiant expects to receive roughly two 737s monthly throughout 2024. "The operating efficiency and reliability of this aircraft will help bolster profits for many years to come," Redmond says.
By the end of the first quarter of 2023, Allegiant anticipates operating a fleet of 124 aircraft, including 35 Airbus A319s and 89 A320s.