Low-cost carrier Cebu Pacific widened its full-year operating loss for 2021, led by a drop in passenger revenues as travel demand collapsed amid the pandemic.
For the full year, the airline reported a operating loss of Ps23.2 billion ($444 million), compared to the Ps20.8 billion loss it made in 2020.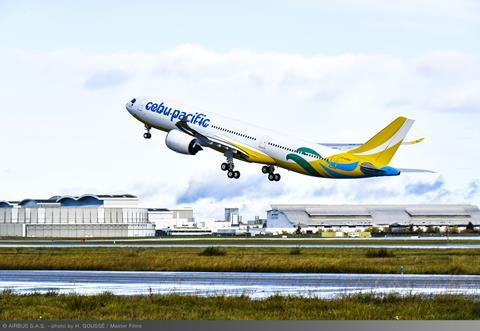 The airline blamed the resurgence of new coronavirus variants - and resulting lockdowns - for a decline passenger revenues, which fell 50% year on year to Ps6.3 billion.
Cargo "continued to flourish" amid robust demand, with the airline reporting an uptick of 20% in takings to Ps6.5 billion.
Full-year costs fell 10% to Ps39 billion, as the airline reduced flying around the middle of the year during a surge of Delta variant infections. These were "supplemented by the various cost cutting initiatives undertaken such as right-sizing of its network, fleet, and manpower".
Cebu Pacific widened its net loss in 2021, at nearly Ps25 billion compared to Ps22.2 billion in 2020.
The carrier is optimistic in its outlook for 2022, noting that forward bookings "steeply increasing" in the months ahead. The Philippines fully reopened its borders to vaccinated travellers in February, a move that is expected to provide a boost to the country's aviation and tourism sectors.
Cebu Pacific says it expects domestic capacity to hit pre-pandemic levels by the second quarter of the year.