Cebu Pacific remained in the red for the first quarter of 2022 amid a surge in coronavirus infections in the Philippines, though the low-cost carrier trimmed its losses from a year ago.
For the three months to 31 March, Cebu Pacific posted a Ps5.3 billion ($102 million) operating loss, narrowing slightly from the Ps6.8 billion loss in the same period a year ago.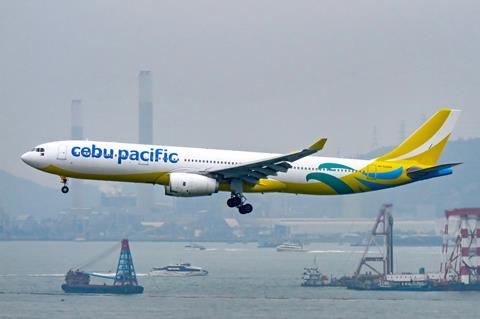 Revenues for the quarter more than doubled year on year to Ps6.7 billion, with passenger revenue trebling against 2021. Expenses rose 26% against 2021 to Ps12 billion, as a result of rising fuel costs.
Cash and cash equivalents at the end of the period stood at Ps17.4 billion, slightly below the Ps18.1 billion at the start of 2022.
Cebu Pacific says the spike in coronavirus infections - caused by the more infectious Omicron variant - had impacted travel demand, as travel restrictions tightened in January and February.
The "headwinds" caused by the wave of infections also led to flight cancellations, as the carrier suffered crew resource limitations.
By March, however, Cebu Pacific was seeing an uptick in travellers, as travel curbs began to ease.
Consequently, the carrier saw a three-fold jump in passenger numbers in the first quarter to about 2.05 million, with flights mounted doubling year on year.
For the rest of the year, the airline expects a "better business outlook" with domestic recovery and international borders reopening.
"However, it remains cautious of the risks presented by increasing jet fuel prices and interest rates and depreciation of the Philippine peso vs US dollar," Cebu Pacific adds.