Garuda Indonesia expects strong passenger travel demand through the year-end, as it works through restructuring and fleet rationalisation.
Airline chief Irfan Setiaputra says the airline has seen passenger numbers grow about 11% this year, with international passengers seeing a three-fold rise in the first half of the year as borders reopen in key markets.
By year end, the airline hopes to ramp up the total number of available seats to more than 2.7 million, with the figure "moving dynamically" as Garuda works to restore aircraft into service, the airline chief adds.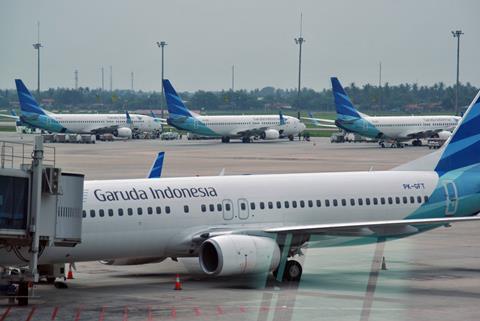 The "promising" outlook comes as the Jakarta-based airline swung back to profitability for the first-half of the year, on the back of significant income gained from its debt restructuring.
For the six months to 30 June, Garuda posted a pre-tax profit of $4 billion, against a pre-tax loss of $985 million during the same period in 2021.
Revenue for the half-year rose about 26% year on year to $879 million, while costs fell 12% to $1.2 billion.
The airline disclosed almost $2.9 billion in income from debt restructuring, while it eliminated losses incurred from early lease termination.
In a separate statement, Garuda says its restructuring plan has gotten over 95% creditor approval, and stresses that the debt restructuring income gain was recorded in accordance to relevant accounting standards and audited with an unqualified opinion.
Garuda posted a net profit of $3.76 billion, reversing the $902 million net loss in 2021. The airline also ended the period with about $131 million in cash and cash equivalents, higher than what it started the year with.
It reiterates that it will end the year with an operating fleet of 61 aircraft, with low-cost unit Citilink to have 58 jets. By year-end, Garuda also expects to return all its CRJ1000 regional aircraft.
Says Setiaputra: "With the acceleration of … restructuring and the market outlook for the aviation industry which shows promising opportunities, especially in the domestic market, we project that the performance transformation mission that we are currently intensifying [will be able to] … make Garuda Indonesia a more healthy, adaptive and empowered business entity."