Garuda Indonesia has achieved a milestone on its road to recovery, with the receipt of Rp7.5 trillion ($478 million) in funds from Jakarta.
The carrier, which has undergone a massive restructuring exercise, will use the funds to help restore its fleet, buy spare parts, conduct maintenance, and for operations, it says.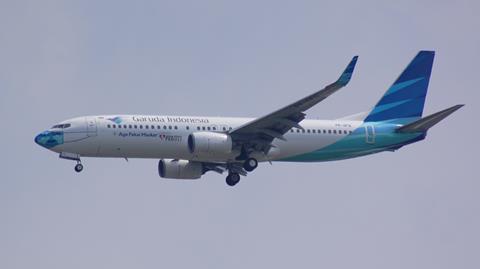 The payment, made under the auspices of the government's State Capital Investment (PMN) programme, was contingent on the carrier meeting specific criteria outlined in its restructuring plan.
"We are optimistic that this PMN realization will strengthen Garuda's steps in accelerating the continuous restructuring process expected to be completed by the end of this year," says chief executive Irfan Setiaputra.
"Surely, it is also an important phase for Garuda's efforts to raise the national momentum to optimize the aviation industry sector in 2023."
He adds that government support is key for the airline's recovery, and that Garuda is integral to the Indonesian economy. In addition, the PMN payment will help the carrier meet obligations to creditors undertaken via the PKPU (Debt Payment Obligations Postponement) process.
Garuda's complicated restructuring addresses a number of parties. Lessors and creditors with a certain level of exposure receive bonds, while some creditors also will receive equity. The package also includes generous loan extensions related to borrowings from Indonesian state-owned enterprises and banks.
In a recent interview with FlightGlobal, Setiaputra said that Garuda is firmly focused on managing costs. By the end of 2022 Garuda aims to have 60 aircraft in service – half of its pre-pandemic fleet – with this rising to 70 at the end of 2023.