Garuda Indonesia expects to launch a UK scheme of arrangement as part of a restructuring in which it is looking to remove nearly 80 aircraft from its fleet and renegotiate or cancel orders for more than 90, Cirium understands.
"To implement the restructuring of the group's aircraft lease arrangements and potentially its other debts, the company expects to launch a UK scheme of arrangement," states a slide, viewed by Cirium, from a 7 September townhall attended by lessors.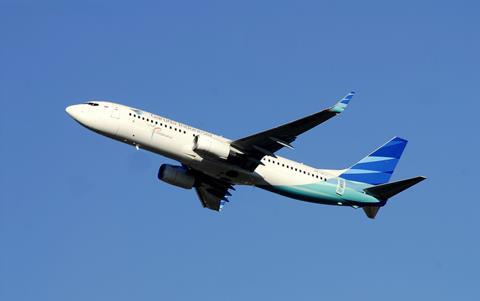 Garuda plans to return a significant number of its widebody aircraft, including types whose lease rates and values are already depressed.
The airline plans to remove all 10 Boeing 777-300ERs from its fleet, as well as all seven of its Airbus A330-200s.
It leases two of its 777-300ERs from ALAFCO, two from Altavair and the remaining six from ICBC Leasing, according to Cirium fleets data.
Its A330-200s are on lease from Air Lease, Aircastle, Avolon, Carlyle Aviation Partners, CMIG Leasing, DAE Capital and TrueAero – which all manage one aircraft each.
Meanwhile, it wants to keep eight of its A330-300s, but get rid of the remaining ten. It manages six of its A330-300s itself and the rest are leased, including three from Avolon, two from Bocomm Leasing, one from Jackson Square Aviation, four from ORIX Aviation, and one from TrueAero.
As for new-generation widebodies, it plans to retain five A330-900/800s, while renegotiating or cancelling orders for 13.
On the narrowbody side of its fleet, Garuda wants to retain 56 A320/A320neos for operation by Citilink, while cancelling or renegotiating its 25 orders for A320neos. All of the A320s currently in its fleet are leased, according to Cirium fleets data.
Regarding its Boeing narrowbodies, it wants to retain 53 737-800s and remove the remaining 17. All of its 737s are leased, according to Cirium fleets data.
It also hopes to remove the only Max from its fleet – which Cirium fleets data indicates is managed by Bocomm Leasing – while renegotiating or cancelling orders for the remaining 49 in its orderbook.
With regard to its older Boeing narrowbodies, it plans to get rid of all but one aircraft from its 737-300/500 fleet, keeping that one aircraft for operation by Citilink.
Among its regional jets and turboprops, it plans to remove all 18 CRJ1000s from its fleet. It manages six itself and the rest are on lease from Nordic Aviation Capital, according to Cirium fleets data.
Meanwhile, it will retain 11 ATR 72-600s for operation by Citilink, although it will also remove eight ATRs and cancel or renegotiate orders for five. All of its ATRs are on lease from NAC, Cirium fleets data indicate.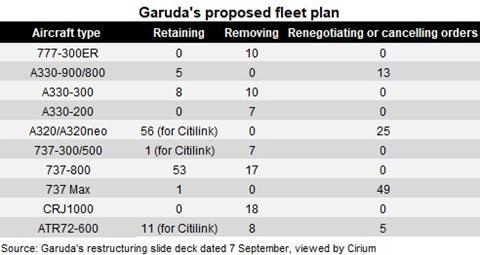 The fleet plan will depend on the outcome of negotiations with lessors, a person involved in the discussions tells Cirium.
Thomas Kaplan, valuations consultant at Ascend by Cirium, believes the impact on market values and lease rates from these returns will not be too significant.
"This definitely adds to the supply of available aircraft in the market, but in most cases the numbers are not so large that they will fundamentally change market values and lease rates," he says.
"For the A330ceos, the oversupply is such that I don't think an extra 17 will further impact on lease rates and values. The 10 777-300ERs, relatively young at five to eight years old, may have more of an impact on relative supply, particularly on lease rates given that all these are lessor managed."
He adds that the "extremely niche" CRJ1000s will be the most affected.
"It is losing a key operator, resulting in nearly one third of the global CRJ1000 fleet being returned," he says.
PKPU TO MIRROR THE SCHEME
Back on 9 July, an application for a local restructuring, called Penundaan Kewajiban Pembayaran Utang (PKPU), was filed by trade creditor My Indo Airlines.
Since then, rumours had been swirling in the market about how the airline would decide to deal with its foreign creditors. When it appointed a suite of international advisors with experience in US Chapter 11 bankruptcy – including Guggenheim Partners, McKinsey & Co and law firm Cleary Gottlieb – some guessed Garuda might go down the Chapter 11 route, as Philippine Airlines has done.
Following Garuda and its adviser's townhall with its lessors earlier this month, the US route seems not to be the airline's preference. Some market sources told Cirium this does not come as a surprise, given the expense involved in the Chapter 11 process.
The Indonesian Commercial Court will decide on the PKPU application in the third week of September, according to the 7 September townhall slides.
If the court accepts that application, creditors will have to submit their claims to the administrator to verify within 45 days, at the end of which period Garuda will propose an extension of the PKPU. It expects to "propose a settlement plan for formal voting in PKPU once it has majority creditor support".
Garuda says it "anticipates" that the UK scheme of arrangement will be launched and completed prior to the PKPU restructuring plan being voted on and sanctioned by the Indonesian court, if the current PKPU application is accepted by the court.
"The terms of the scheme [of arrangement] and PKPU restructuring plan in respect of the aircraft lease arrangements are expected to be identical," a slide states.
A person familiar with the restructuring explains to Cirium: "The plan for the international lessors is whatever is agreed in the [UK] scheme would be how they are treated under PKPU – so the PKPU would just mirror whatever the scheme result is."
COMPARISONS WITH MALAYSIA
Market observers will be quick to draw comparisons with the restructuring of Malaysia Airlines, which also used a UK scheme of arrangement for its restructuring.
"Malaysia were not behind [on lease payments] when they filed and so there wasn't any having to deal with massive unpaid lease bills," says the person familiar with Garuda's situation, who is also familiar with Malaysia Airlines' restructuring.
"They didn't reduce the fleet size and… they went for PBH for all the op leases, but it had a minimum floor, so everybody got something every month, whereas Garuda are clearly looking to reduce the fleet size significantly."
Part of the reason Garuda and its advisers are opting to undertake restructurings in both the UK and Indonesia could be because there is a risk the PKPU would not be recognised outside of Indonesia, the person says.
"Their concern is that that wouldn't be recognised outside of Indonesia. And the UK structure will be more transparent, whereas a PKPU can be 'less transparent', shall we say."
GOVERNMENT FINANCIAL SUPPORT
The airline has hired Mandiri Sekuritas as its lead adviser, Guggenheim as its restructuring adviser, Cleary Gottlieb as its international counsel, Assegaf Hamzah & Partners as its local counsel, and McKinsey & Company as its business consultant.
McKinsey is assisting in preparing a "long-term, consolidated" business plan and cash-flow forecast, the 7 September townhall slides show. That business plan will focus on "rationalising" its route network, as well as "rightsizing" its fleet and associated cost structure, including "resetting" lease rates to "more reasonable, market based terms" in order to return to profitability and attract "necessary new investment".
Lessors are now accessing that business plan via a data room. It has also been presented to the government of Indonesia, which has "indicated its willingness to provide Garuda with funding to allow it to reorganise".
Garuda and its advisers expect an initial $90 million tranche of interim financing to close within approximately one month. Additional amounts are "subject to negotiation based on progress made in the company's restructuring efforts".
A slide states: "Because the business plan is premised on a significant reduction in the overall fleet size, agreeing on sustainable interim payment terms and a renegotiation of go-forward lease rates, the government wants to phase its funding in such a way that it can be comfortable the plan is progressing and ultimately successful."
NEXT STEPS
The airline and its advisers have requested lessors to form a committee and engage a common legal adviser, according to the 7 September slides. A call had been scheduled for the evening of 14 September (Asia time) to brief lessors on further details about Garuda's plans, according to an invitee.
Garuda is planning to share a set of "restructuring principles" with the lessor committee and has requested input on these principles such that non-binding agreement can be reached by late September, the slides state. This is so that the company can "demonstrate to the government that Garuda and its lessors are proceeding along an agreed path and additional financial support for Garuda is warranted".
By early October, Garuda will deliver to the lessor committee a lease rate "grid" containing proposed benchmark lease rates by aircraft type and vintage and solicit their feedback on this.
Then, by early November, the airline is "targeting delivery of a fulsome restructuring proposal" that would incorporate the lease-rate grid and terms of ongoing financial support from the government and "potentially" additional parties, and set out the terms of the proposed treatment of outstanding claims and liabilities.
Cirium has contacted Garuda, Cleary Gottlieb, Guggenheim Partners, McKinsey & Co, Mandiri Sekuritas and Assegaf Hamzah & Partners for comment.
Analysis by Michael Allen of Cirium