Indonesia's Ministry of State-Owned Enterprises (SOEs) has launched a probe into alleged corruption involving aircraft procurement and leases at Garuda Indonesia.
The probe will also involve Indonesia's attorney general, says the ministry in a statement.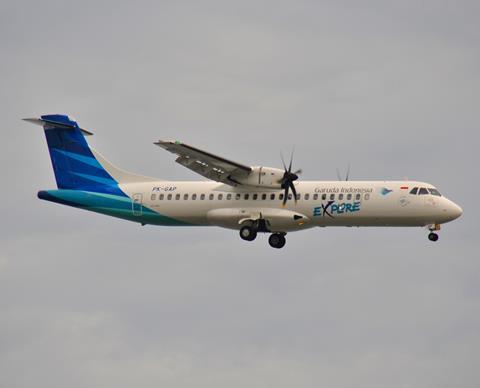 "Garuda is currently in the restructuring stage, but what we also know is that the data are valid, indeed in the process of procuring its aircraft, the leasing has indications of corruption, with different brands," says SOE Minister Erick Thohir.
Thohir also singled out a specific aircraft type, the ATR 72-600.
"We are focused on transforming Garuda to be more accountable, professional and transparent," he says. "It's not the time to accuse, we act based on evidence."
Cirium fleets data indicates that Garuda has six ATRs in service, with seven examples in storage. All 13 are managed by Nordic Aviation Capital.
Garuda has been associated with graft in the past. In 2020, former chief executive Emirsyah Satar was jailed for eight years for taking kickbacks related to the acquisition of Airbus aircraft and Rolls-Royce engines.
In 2019, chief executive Ari Askhara lost his job after smuggling items aboard an Airbus A330-900 delivery flight. The incident affected the careers of other executives as well.
The news comes as Garuda undergoes a massive restructuring exercise aimed at reducing its debt and restructuring its fleet.
Indonesia's official Antara news agency quotes Thohir as saying that mismanagement over the years has seen Garuda's debt balloon to INR140 trillion ($9.8 billion), and that 470 creditors have made claims of up to $13.8 billion.
Thohir adds that this amount will be reviewed, with a decision made by 22 January as to what debts will be part of the airline's restructuring process. Garuda has proposed a restructuring that would reduce its debt burden to $3.7 billion.
Meanwhile, Garuda Indonesia Group shareholder Chairul Tanjung says he will inject additional liquidity into the struggling carrier following the restructuring.
Tanjung is the second largest shareholder in Garuda, and holds a 28.3% stake via Trans Airways. Garuda's largest shareholder is the Indonesian government, which holds 60.5%.