Norwegian has completed its financial restructuring under which it converted NKr12.7 billion ($1.27 billion) debt into equity to enable it to access NKr3 billion in lifeline state aid.
The cash-strapped carrier had embarked on the debt conversion programme to meet equity ratio criteria required to unlock the second and third tranches of state aid. It had previously warned it would run out of cash in May without securing the remainder of the state aid package.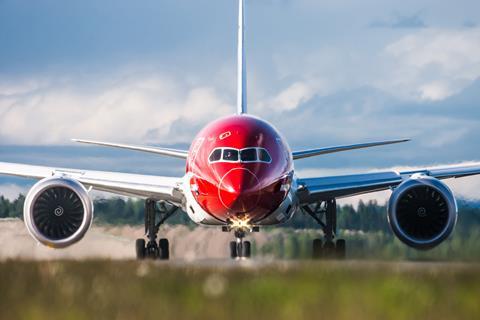 In a stock market announcement today Norwegian says it has entered into a NKr2.99 billion state supported term facility agreement arranged by DNB Bank.
"Now that we can access the state loan guarantee, we can continue to transform the company," says Norwegian chief executive Jacob Schram.
"Nevertheless, the months ahead will remain challenging and with a high degree of uncertainty for the industry. Norwegian will still need to collaborate closely with a number of creditors as the company currently has limited revenues."
After a period of rapid expansion and amid growing financial challenges, Norwegian in late 2018 embarked on major restructuring programme. Notably it pared back capacity in an effort to focus on profitable routes. Norwegian, which posted net losses for the past three years, says it was on course to deliver a net profit this year prior to the coronavirus crisis.
"This has been a very challenging process with parallel negotiations and a lot of moving parts with constant dialogue and negotiations for more than two months," says Norwegian chief financial officer Geir Karlsen.
"The negotiations have been tough, but constructive with significant contributions from all stakeholders. These are extraordinary circumstances and we have experienced an increasing degree of support and understanding and are satisfied that we have reached this milestone."
Norwegian says almost NKr9.1 billion of lease obligations have been converted into approximately 1.69 billion conversion shares at a conversion price of NKr4.25 per share and perpetual bonds, which are convertible into approximately 445 million new shares.
As part of it negotiations it notes that company and its subsidiaries have also agreed with its individual lessors to redeliver three aircraft prior to the contractual redelivery dates.
A further NKr3.6 billion of bond debt has been converted into approximately 815 million conversion shares and perpetual bonds.
Schram adds: "In addition to securing that the company survives this crisis, our goal has been that Norwegian should have a strong position in the future airline industry, with a clear direction and strategy."
The airline has last month said it will remain in a "hibernation phase" – in which 95% of its fleet is grounded and just seven aircraft are operating state-subsidised domestic operations only – until the second quarter of 2021, when a gradual ramp-up will begin.
It does not anticipate "normal operations" resuming until 2022, and the airline that emerges then will operate fewer aircraft and a "rightsized" network focused on the most profitable routes.