Qantas is eyeing new international destinations and a larger share of Australia's domestic market as it emerges from the Covid-19 crisis, company executives said today.
The airline is keeping an eye on the potential for travel bubbles with parts of Asia, chairman Richard Goyder said at the flag carrier's annual general meeting.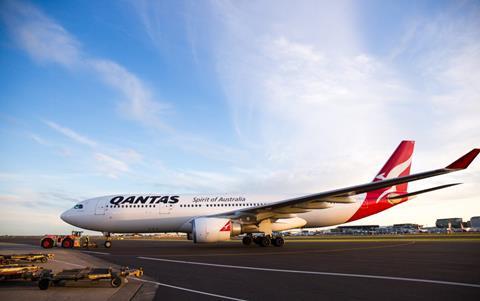 "By early next year, we may find that [South] Korea, Taiwan and various islands in the Pacific are top Qantas destinations while we wait for our core international markets like the US and UK to reopen," he states.
Chief executive Alan Joyce said the unexpected closure of state borders in July to cope with a fresh wave of Covid-19 cases had delayed Qantas and Jetstar's domestic recovery plans.
Domestic capacity is running at under 30% of what it was pre-Covid-19, whereas the group had expected it to be back to about 60% by now.
"This delay resulted in a A$100 million ($71 million) negative impact on earnings for the first quarter of FY21, and will have an impact on Q2 as well," he told shareholders.
Still, he expects the upturn in demand to be swift once Australian states reopen their borders and says Qantas has the liquidity to manage the situation.
"Because our cash flow from continuing operations is positive before one-offs like redundancies, we could continue at this level of flying for a very long time – if we had to," he adds.
Joyce predicts that the group will be at up to 50% of domestic capacity by Christmas if Queensland opened its borders to New South Wales. He adds that due to changes in strategy at main rival Virgin Australia, Qantas Group's share of the domestic market could rise from 60% to 70% over time.
Chairman Goyder highlights that Qantas has raised over A$2 billion in secured and unsecured debt since March and A$1.4 billion through its first equity raising in a decade.
To deal with "the worst trading conditions in our long history", according to Joyce, Qantas has also identified A$15 billion in cost savings over the next three years, mainly through less flying.
It is aiming for A$1 billion in ongoing cost improvements from financial year (FY) 2023, of which A$600 million is due to be achieved in the current financial year ending 30 June 2021. For example, the group is looking to reduce ground handling costs by up to A$100 million a year, is reviewing its property portfolio, and has stopped cash spending on sponsorships.
"Progress has been strong, with the FY21 program about halfway through, and expected to be 90% complete by the end of December 2020," Joyce states.
He says there are some bright spots in the current crisis. The airline's loyalty division saw profits slip only 10% in the last financial year. The division's diversification has also paid off, with Qantas Wine revenues up 75% in July and August compared with last year.
Freight activity is also benefiting from the shift to e-commerce as people spend more time at home.
"It's seen levels of regular activity more in-line with the Christmas rush in recent months."
Overall, Joyce notes, Qantas has several reasons to be confident. He cites the group's liquidity, progress on cost savings and clear signs of strong domestic travel demand
"We will come through this crisis more efficient and more focused – ready to take advantage of the opportunities on the other side," he concludes.