Qantas has rejected in-house bids from its employees after a three-month process and decided to outsource its ground handling at 10 airports across Australia.
The move brings job losses across the group "as a result of the Covid crisis and associated border closures" to around 8,500 of its 29,000 pre-Covid workforce, the Australian flag carrier says in a 30 November statement. Around 2,000 employees are affected by the decision announced today.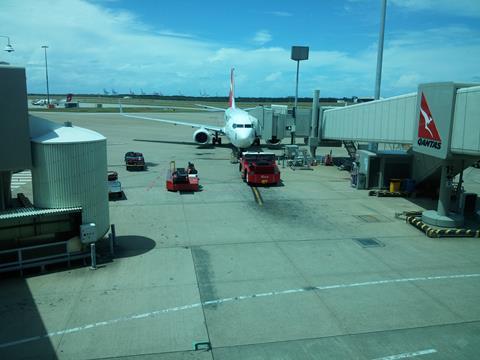 "Unfortunately, Covid has turned aviation upside down. Airlines around the world are having to make dramatic decisions in order to survive and the damage will take years to repair," says Qantas domestic and international chief executive Andrew David, who describes the move as "another tough day for Qantas".
"While there has been some good news recently with domestic borders, international travel isn't expected to return to pre-Covid levels until at least 2024. We have a massive job ahead of us to repay debt and we know our competitors are aggressively cutting costs to emerge leaner."
Qantas had already indicated in August that it intended to outsource the ground handling work at the 10 airports, but it gave its own employees an opportunity to bid for the work, saying they would need to "demonstrate they can deliver on the objectives Qantas needs to meet".
These objectives include reducing the overall cost of ground handling operations, avoiding large spending on ground handling equipment such as aircraft tugs and baggage loaders, and "better matching" its ground handling services and their cost with fluctuating levels of demand.
Qantas said on 30 November that the Transport Workers Union (TWU) submitted bids on behalf of employees, and teams from some individual airports submitted local proposals.
"Unfortunately, none of these bids met the objectives," Qantas says, adding that it had granted three separate extensions to the original deadline for the bid following requests by the TWU, doubling the total period to 12 weeks.
"Their resulting national bid was, by their own admission, 'theoretical' with no roadmap of how projected cost savings would be achieved. For instance, the proposal resulted in 1 million surplus labour hours – or around 900 roles – but no details on how to deal with that surplus," Qantas says, in explaining its decision.
"It also did not meet the objectives relating to capital expenditure on ground services equipment nor matching the ground handling services (and their cost) to fluctuating levels of demand. While proposals from employees at various ports did include detailed plans that would save around A$18 million [$13 million], there remained a significant gap compared to what was offered by third party providers."
Instead, "a number of" external bidders were able to meet the objectives, Qantas goes on to say, including reducing annual costs by around A$103 million.
It is notifying preferred bidders today and, subject to consultation and finalising contract terms, the transition to outsourced ground handling is expected in the first quarter of 2021.
"The TWU's in-house bid claimed that significant savings could be made but it failed to outline sufficient practical detail on how this might be achieved, despite us requesting this information multiple times throughout the process. Even with the involvement of a large accounting firm, the bid falls well short of what the specialist external providers were able to come up with," adds domestic and international chief executive David.
"We have used these specialist ground handlers at many Australian airports for decades and they've proven they can deliver a safe and reliable service more efficiently than it's currently done in-house. This isn't a reflection on our people, but it is a reflection of economies of scale and the urgent need we have because of Covid to unlock these efficiencies."
Qantas says it will now consult with its ground handling employees and their representatives "on the next steps", with affected employees entitled to a redundancy package. They will also get "support" to transition to new jobs outside the business.
"It's expected that there will be a range of opportunities for some impacted team members with suppliers in the sector as travel demand gradually recovers," Qantas says.
Jetstar has already transitioned its ground handling operations at six airports to external suppliers – a decision that was announced at the same time Qantas announced its review process in August.
That same month, Qantas also announced a separate proposal to outsource crew bus services in-and-around Sydney Airport, potentially affecting around 50 employees. Qantas said on 30 November that this review process is ongoing and it expects to make a decision before the end of the year.