Qantas Group anticipates an A$11 billion ($8.1 billion) revenue drop for the year ending June 2021, but remains optimistic about recovery prospects amid a "vast improvement in trading conditions" in recent months.
In a business update, group chief executive Alan Joyce says that domestic capacity has steadily crept upwards with state borders reopening, following lockdowns imposed to curb the spread of the coronavirus.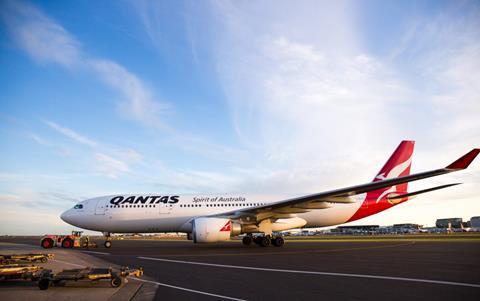 It is forecasting capacity to return to around 70% of pre-pandemic levels by Christmas, before rising to about 80% by the first quarter of 2021.
"We've seen a vast improvement in trading conditions over the past month as many more people are finally able to travel domestically again," Joyce adds.
However, he notes that international operations will remain "at a virtual standstill" at least until July 2021, with full recovery not until years later.
"[This] means we are carrying the overhead for billions of dollars' worth of aircraft in the meantime. We're also facing a revenue drop of at least A$11 billion this financial year alone compared to pre-Covid," adds Joyce.
The group has flagged a "substantial" net loss for the year ending June 2021 as a result of the revenue hit, reversing the underlying profit of A$124 million it reported the year before.
Nonetheless, it expects to be close to breaking even — based on underlying earnings — in the first half of the current financial year, and turn net free cash flow positive by the latter half.
Qantas' three-year recovery plan — first announced in June — is also on track to deliver A$600 million in cost benefits for the current fiscal year, the group discloses.
The plan, which saw job cuts and the early retirement of its Boeing 747 fleet, aims to delivery cost benefits of at least A$1 billion from financial year 2023, which begins 1 July 2022.
As part of the recovery plan, the carrier most recently outsourced ground handling operations at 10 Australian airports, leading to job cuts of more than 2,500 staff.
Says Joyce: "Overall, we're optimistic about the recovery but we're also cautious given the various unknowns. We also have a lot of repair work to do on our balance sheet from the extra debt we've taken on to get through the past nine months."
He adds: "That's why we remain focused on delivering on our recovery program, which unfortunately involves following through on some hard decisions to restructure and respond to the new set of circumstances we're faced with."