The Qantas Group will be retiring its fleet of six Boeing 747s immediately — six months ahead of schedule — and ground 100 aircraft for up to a year, as part of cost saving measures that will also see about 20% of its employees axed.
Taken together, Qantas says the three-year recovery plan — its latest response to the impact from the coronavirus outbreak — will help the carrier reduce costs by A$15 billion ($10.3 billion) from reduced flying activity.
Qantas says the grounding of up to 100 aircraft for a year will impact most of its international fleet, and warned that some aircraft might be mothballed for even longer, including its fleet of 12 A380s.
The carrier will also return some aircraft to lessors, "as they fall due", though it did not provide more details.
It notes that there is "significant uncertainty" about whether or not travel demand in the future will support its A380s.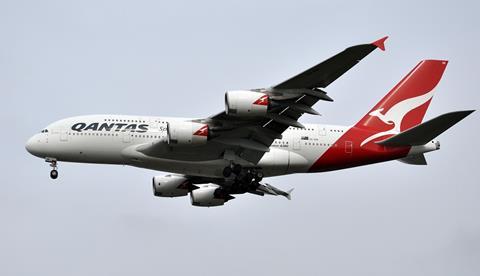 "These assets will be idle for the foreseeable future, which represents a significant percentage of their remaining useful life," the carrier states. Qantas Group chief executive Alan Joyce was also quoted in media reports as saying that the A380s will continue to be grounded for at least another three years.
Qantas states that it would be deferring deliveries of Airbus A321neos, which its low-cost subsidiary Jetstar has on order and are due for delivery from 2021.
It also will be deferring delivery of three remaining 787-9s, which were due to enter the fleet this year.
The group's restructuring will also mean that 6,000 roles across the company will be made redundant. Corporate roles and ground operations will make up nearly half the jobs lost, at 1,450 and 1,500 people respectively.
Qantas will also continue to "stand down" another 15,000 staff, most of whom are associated with international operations, until flying resumes.
The carrier says the implementation of the plan will cost about A$1 billion, with most of it realised during financial year 2021. The plan, once implemented, will bring annual cost savings of A$1 billion — through productivity improvements — from financial year 2023.
Joyce, whose tenure will be extended until 2023, says Qantas has to "position ourselves for several years where revenue will be much lower…and that means becoming a smaller airline in the short term".
He adds that the carrier has seen "the collapse of billions of dollars in revenue" since the pandemic hit, and that restructuring was inevitable.
Still, Joyce says that the group is "fundamentally optimistic" about its future prospects. Domestic capacity has slowly crept back up, in part due to the lifting of domestic travel restrictions.
He also did not rule out Qantas' "big ambitions" for its long-haul international flights, which include Project Sunrise, the airline's initiative to operate ultra-long-haul flights between the Australian east coast and New York or London. Qantas in May put pause on the plan, citing the impact of the coronavirus outbreak.
"We know this new plan can get us back on track. Back to growth, back to profit and back to pushing boundaries with things like Project Sunrise," says Joyce.