The Qantas Group says its 2020 fiscal year was the worst in its 100-year history, but still managed to turn an underlying profit before tax of A$124 million ($90 million).
The A$124 million figure for the 2020 financial year ended 30 June was 91% lower than a year earlier, with revenue falling 20.6% to A$14.3 billion amid the collapse in demand stemming from the coronavirus pandemic in the first half of 2021, says the airline.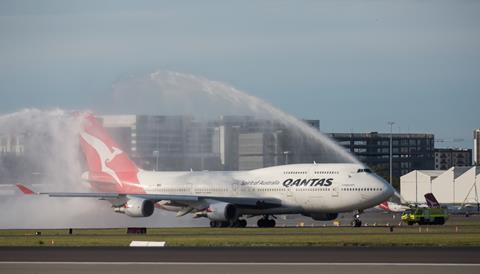 "The impact of that is clear," says chief executive Alan Joyce. "COVID punched a $4 billion hole in our revenue and a $1.2 billon hole in our underlying profit in what would have otherwise been another very strong result."
This was reflected in the airline's full-year net loss of after tax of $1.94 billion, compared to a net profit after tax of $840 million in 2019.
While the airline implemented a number of cost cuts in response to the crisis, operating expenses excluding fuel fell 16% to A$8.9 billion, failing to keep pace with the decline in revenue.
ASKs fell 26% for the year, RPKs were down 28%, and the number of passengers carried dropped 28% to 40.5 million. Load factors for the year fell 1.9 percentage points to 82.3%.
Owing to fund raisings and credit facilities, the Group's cash and cash equivalents situation improved to A$3.5 billion, compared with A$2.1 billion a year earlier.
The main bright spot in the airline's results was Qantas Loyalty, which generated earnings before interest and tax (EBIT) of A$341 million, down just 9% from a year earlier.
As for other individual segments, Qantas Domestic remained profitable with an EBIT of A$173 million, down from A$773 million a year earlier.
Qantas international had an EBIT of A$56 million, down from A$323 million. Qantas International enjoyed support from "a record performance in freight due to increased air freight demand while passenger aircraft belly space remained constrained."
Low-cost unit Jetstar, however, suffered an EBIT loss of A$26 million. While Jetstar's Australian and New Zealand operations were profitable, its Jetstar Asia, Jetstar Pacific, and Jetstar Japan units suffered losses.
Qantas reiterated that its exit from Jetstar Pacific in Vietnam is "well advanced," and that Jetstar Asia's fleet will be reduced to 13 aircraft from 18.
Qantas says the recovery plan announced in June is well underway. This will see 100 aircraft grounded for 12 months, including the Airbus A380 fleet, which will be grounded for the foreseeable future. In addition, the airline retired its Boeing 747-400 fleet earlier than planned.
At the end of June 2020 the Group's fleet stood at 314 aircraft, unchanged from a year earlier.
Joyce adds that after the crisis Qantas will be the only Australian airline that can fly long-haul, and reiterated that the airline still wants to pursue its "Project Sunrise" initiative. This could see direct long-haul flights from Melbourne and Sydney to destinations such as London and New York.
"Our message is simply this: the Flying Kangaroo's wings are clipped for now, but it's still got plenty of ambition," says Joyce. "And we plan to deliver on it."