Qantas chief executive Alan Joyce believes the carrier's Project Sunrise initiative to launch ultra-long-haul flights will be even more viable in the post-coronavirus world.
Joyce adds that the plan will be revisited at the end of 2021, potentially setting the stage to launch nonstop services from Melbourne and Sydney to London and New York. As the Covid-19 pandemic grew more severe, in May 2020 Qantas pressed pause on Project Sunrise. The initiative could have seen it order up to 12 Airbus A350-1000s.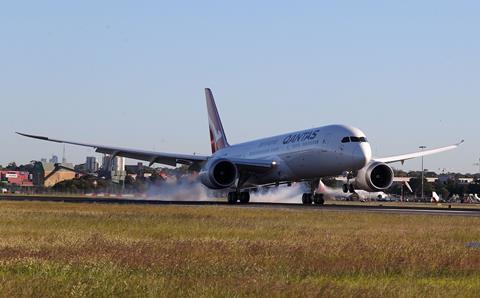 "We were pretty close…within a couple of weeks of placing orders for the aircraft," says Joyce.
He adds that Airbus would have provided a "specially designed version" of the -1000 "to allow us to do these sectors economically – and the business case looked really good."
Joyce made the remarks during an interview on the Reuters Next virtual conference.
"I'm optimistic that the [Project Sunrise] business case will still look good," says Joyce. '[But] we're obviously not going to put an order in for new aircraft until we see the international markets recovering."
He contends that in a post Covid-19 world, people will have a preference for flying direct, as opposed to flying through hubs.
"Hopefully, by the end of 2021, we can revisit [Project Sunrise] and look at what is the appropriate time to start. The balance sheet takes priority, but we think you can do that and repair the balance sheet at the same time."
Apart from repatriation flights operated with A330s and cargo services, the carrier has all but stopped international operations, grounding most of its widebody fleet. This includes its entire fleet of 12 A380s, which will be out of service for at least three years, and its Boeing 787-9s. It also prematurely retired its 747-400s. The carrier has three brand new 787-9s "in the desert" that it has yet to take delivery of.
Assuming international travel reboots as global vaccination efforts build herd immunity, he feels Qantas has the right mix of aircraft to operate its previous network in a scaled back form. Australia, as a country where Covid-19 has been well controlled, is likely to be an attractive destination for international travellers.
"We can grow our fleet quite rapidly to expand the international network and operate to the range of destinations we had before Covid-19 - but with less capacity," he says.