Europe's biggest passenger airline Ryanair operated just 600 scheduled flights carrying 40,000 people in April as the airline was all but grounded by the coronavirus pandemic.
The figure compares to 13.5 million passengers carried across the Irish carrier and its Austrian subsidiary Lauda in April last year.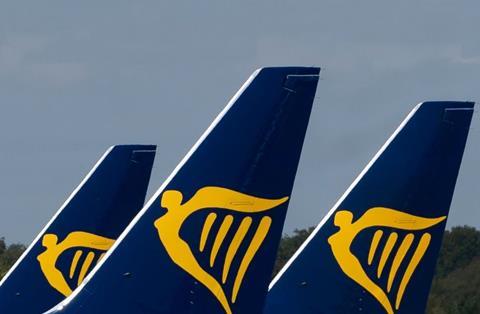 The low-cost carrier giant had originally expected to operate more than 75,500 flights during April before a series of national lockdowns brought international scheduled passenger flights to a virtual standstill across Europe.
The wiping out of traffic in April - following the roughly halving of traffic in March - means Ryanair's passenger levels are down 6% at just over 135 million for the rolling 12 months.
Ryanair, in releasing its regularly monthly traffic update, reiterates it expects to carry only minimal traffic in May and June as travel restrictions persist.
Traffic data for another major low-cost carrier Wizz Air, shows the Central European budget operator was able to operate a little more of its services in April - though still only 3% of its usual capacity. Wizz carried 78,389 passengers in April. This compared to 3.29 million in the same month in 2019.
Wizz has since the start of May has also resumed some operations from its London Luton and Vienna.