A strong second quarter helped Turkish Airlines post an operating profit of $786 million for the first half of the year on a near doubling in revenues compared with the same period last year.
The Star Alliance carrier lifted first half revenues to $7.59 billion from just under $4 billion in 2020.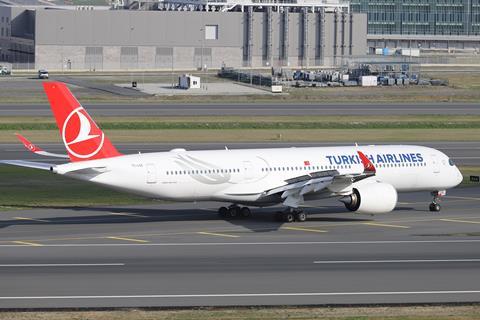 Notably that reflects a sharp recovery in its passenger business as Covid restrictions eased, jumping to $5.37 billion from $2.06 billion. Passenger revenues in the first six months of the year are 8% above pre-crisis levels in 2019.
The airline carried just under 31 million in the first half. While that is 12% below 2019 levels, the 18.2 million it carried over the second quarter was on a par with 2019.
The increase in passenger activity also boosted freight revenues, as Turkish Airlines doubled the amount of cargo flown on its passenger aircraft. Total cargo revenues rose to $2.04 billion in the first half from $1.77 billion.
Cargo, together with the strong leisure and domestic market, has helped Turkish recover strongly from the Covid crisis. Overall first half revenues are 27% above pre-Covid levels, and cargo turnover is 155% higher than the same period in 2019.
This helped Turkish Airlines lift first half operating profits from $146 million to $786 million, while it turned a net profit of $737 million for the period. That compares to a $1 million deficit in the first half of 2020.