Conversions specialist EFW has picked Sichuan Haite Hi-Tech as its first third-party conversions partner on the Airbus A321 passenger-to-freighter (A321P2F) programme, expanding its presence in one its key markets.
Under the partnership, Haite will carry out conversions at its Tianjin facility, with the first aircraft to be inducted by September this year. It will start with one conversion line, adds EFW.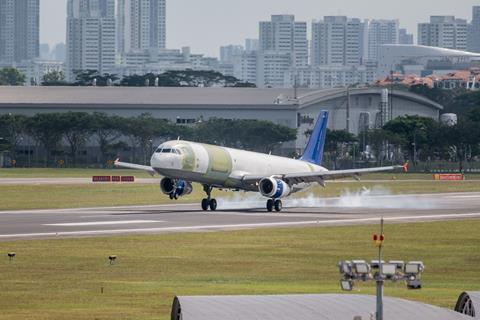 The partnership, announced 22 February, adds to EFW's three existing A321P2F conversion sites: Singapore, San Antonio in the USA, and Guangzhou.
EFW chief Jodi Boto says: "This new partnership will greatly support our strategy to expand the global network for our narrowbody P2F programme. It will also further strengthen our presence in China, which is one of the largest and fastest growing aviation markets in the world."
The first A321P2F entered service with Qantas in October 2020, with the programme clinching orders from other operators like Lufthansa and Titan Airways.
Apart from the A321P2F, EFW – a joint venture with ST Engineering and Airbus – also performs conversions on other Airbus programmes, including the A320 and A330.