Indian airframer Hindustan Aeronautics (HAL) generated record revenue in its 2022-23 financial year, as the company enjoyed strong order flow.
Revenues for the year ended 31 March were Rs265 billion ($3.2 billion), up 8% from a year earlier, according to a brief statement from HAL.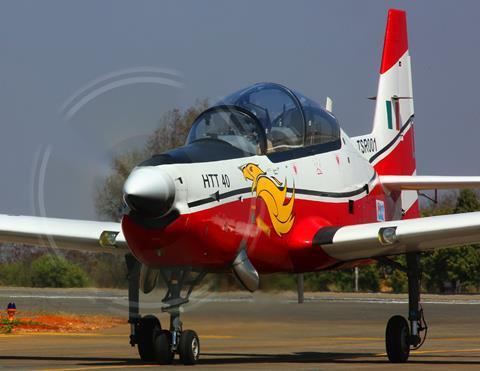 The revenue increase came about despite supply chain challenges, says HAL chairman CB Ananthakrishnan. One factor that helped the company was New Delhi's continued efforts to further develop the country's indigenous aerospace sector.
As of 31 March, HAL's order book stood at Rs820 billion. The financial year also saw the company secure Rs260 billion in new contracts, including orders for 70 HTT-40 basic trainers, six Do-228 tactical transports, and orders related to India's Polar Satellite Launch Vehicle rocket.
In February, Ananthakrishnan told FlightGlobal that HAL is also keen to boost aircraft exports, specifically the company's flagship Tejas fighter.
HAL is also pursuing a requirement from the Philippine Coast Guard for seven Dhruv MkIII maritime helicopters. Philippine test pilots have flown the type in India and HAL has completed multiple rounds of discussions, says S Anbuvelan, chief executive of HAL's Helicopter Complex.