Hindustan Aeronautics (HAL) and Safran Aircraft Engines have entered a memorandum of understanding (MoU) for the indigenous production of commercial engine parts.
The MoU calls for Indian company to produce engine forgings for the CFM International Leap engine at its foundry and forge location in Bengaluru, says HAL.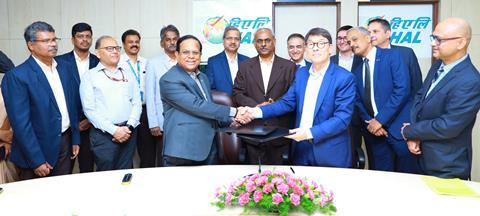 The Leap-1A is an option on the Airbus A320neo family, the while the -1B is the sole powerplant for the Boeing 737 Max.
Safran is a partner in the CFM join venture alongside GE Aerospace.
"We are delighted to expand our collaboration with HAL, which is already part of the Leap supply chain through our joint-venture in Bengaluru dedicated to the production of aero-engine pipes," says Safran Aircraft Engines chief executive Jean-Paul Alary.
HAL and Safran already collaborate on several programmes. In July, the two companies set up a joint venture to design, develop and support helicopter engines.
The joint venture's first objective will be a new powerplant for the planned 13t Indian Multi-Role Helicopter (IMRH) and its Deck Based Multi-Role Helicopter (DBMRH) naval variant.
The companies have also developed a helicopter MRO shop near Goa that will repair Safran TM333 and HAL Shakti turboshafts, which power indigenous types such as the Dhruv and Light Combat Helicopter.