California-based C Cubed Aerospace is gearing up for the first flight of the initial Airbus A320 to be modified under its CCF freighter conversion programme as it bids to hit a year-end target for the completion of certification activities.
C Cubed hopes to obtain a supplemental type certificate (STC) for the conversion by early 2023, allowing delivery of the A320CCF in the first quarter.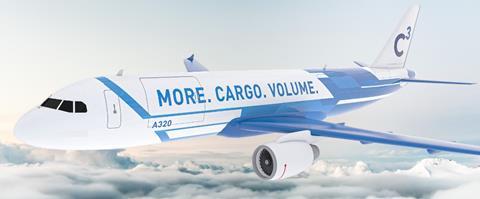 Mike McConnell, chief executive of C Cubed, says work on the first aircraft, alongside its MRO partner, Kansas City, Missouri firm Alta Aero Technic, is proceeding well: "We anticipate being finished with everything at the end of this year." He expects a first flight some time in the final quarter.
Changes to the passenger aircraft see the addition of a large main deck cargo door, rigid 9g cargo barrier, a new crew entry door, new lavatory and minor modifications to the cockpit.
A total of 12 containers – 11 AAAs and one LD3 – can be accommodated on the main deck, with a further seven LD3s on the lower deck.
McConnell points out that its conversion offers higher capacity than the already-in-service design offered by EFW, housing an additional AAA container on the main deck.
An A321CCF is also in the works, with the initial airframe to be inducted later this year. That will hold 14 AAA containers and an LD3 on the main deck, plus 10 of the latter on the lower deck – again offering more main deck capacity than competing designs from EFW and Precision Aircraft Solutions.
McConnell is keeping the precise nature of its changes close to his chest, but says it features "some clever design" to enable the maximization of cargo space. However, C Cubed's modification does not intrude on the aft pressure bulkhead, he stresses.
Forecasts see a requirement for up to 2,000 converted narrowbody freighters over the next 20 years and McConnell believes C Cubed can capture up to 40% of the market. That could see the company and its partners converting as many as 800 aircraft over the next two decades – or up to 40 per year.
"There's absolutely no reason why we should not be able to achieve that if we do the right thing for our customers and it does what we promise it will," he says.
Additional MRO partners will be brought on over the coming months ensuring there are three or four in place by the end of 2023 to ensure "we are able to deliver conversions in the 2023-2024 timeframe".
McConnell is also staying silent on the size of the orderbook, but flags strong customer interest. "We are not saying how many we are planning for [in the coming years] but we see an ability to fill up our MRO partners with as many lines as they are willing to dedicate to our programme."
He expects the conversions to take around 90-100 days on average, well in line with industry standards. "The first one most likely will not be 90 days, but from a learning curve standpoint there is nothing unique to our conversion that would require longer than 90 days at steady state".
The A320 currently undergoing conversion was most recently operated by Chile's Sky Airline. A 2001-built example (MSN1523), the International Aero Engines V2500-powered jet has accumulated 28,800 hours over 12,400 cycles, Cirium fleets data records.

Dominic Perry is deputy editor of Flight International but also contributes extensively to flightglobal.com. Although specialising in the coverage of the helicopter industry, he has written on most topics in aerospace – be they commercial, defence or business aviation. In addition, there has been an increasing focus on the decarbonisation of the industry and zero-emission flight initiatives.