Israeli and United Arab Emirates government ministers have signed an air services agreement enabling airline flights between the two nations.
The agreement was one of four pacts formalised at a trilateral summit, hosted by Israeli prime minister Benjamin Netanyahu, at Tel Aviv's Ben Gurion airport.
"We are assisting civil aviation," said Netanyahu. "We'll connect Israel and the United Arab Emirates through a large number of direct flights.
"Israelis will be able to reach many other destinations beyond that in the east, in Asia."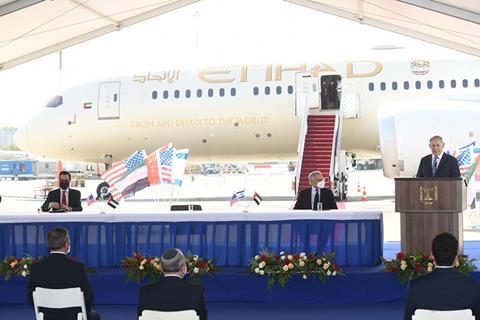 UAE economy minister Abdulla bin Touq Al Mari signed the civil aviation agreement – covering services "between and beyond" the two countries – with Israeli transport minister Miri Regev.
Netanyahu says the agreement will cover "dozens of flights a week".
"Citizens of the Emirates will come to us, and our citizens will visit the Emirates," he adds. "Opening the sky will also allow cheaper and shorter flights to other destinations in the world."
US government representatives, including treasury secretary Steven Mnuchin, were also present at the high-level event.
After a visit to the port of Haifa, ahead of the summit, Netanyahu said that Israel was becoming "a major crossroads, both maritime and air", adding: "You can fly in all directions, over Saudi Arabia and over Jordan."