Kaohsiung airport is set to expand its capacity with the construction of a new passenger terminal, as part of plans to turn the airport into a gateway hub for southern Taiwan.
In a statement on 11 October, Taiwan's Civil Aeronautics Administration (CAA) says pre-construction work for the new terminal will begin in 2023.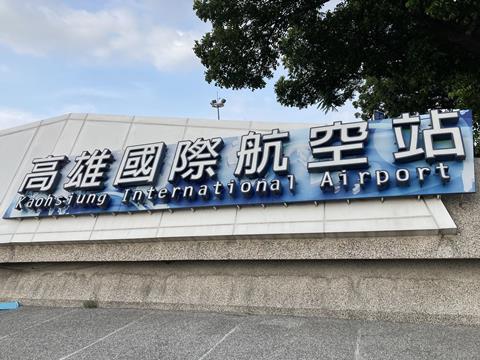 This follows an in-principle approval for expansion given by the Taiwanese government in 2021, and the appointment of a professional consultant team in September.
When fully operational, the "centralised terminal" will be able to handle 16.5 million passengers annually, says the CAA, which did not state when it expects the airport expansion works to complete. At present the airport has two terminals, one handling international flights, which opened in 1997, and the other for domestic flights.
According to CAA data, Kaohsiung airport handled over 7.5 million passengers in pre-pandemic 2019. Apart from key domestic routes, it also handled a significant number of cross-strait flights from Mainland China.
Separately, Taiwan's CAA also announced it would be easing pandemic-related restrictions at more international airports, which includes Taipei's Songshan airport, Taichung airport as well as Kaohsiung. These include reopening dining outlets, as well as recreational spaces, like airport observation decks.
It comes as Taiwan reopens its borders to international travellers on 13 October, after keeping them largely shut for nearly three years. Arriving travellers no longer need to quarantine upon arrival, though they will be required to self-monitor.
The CAA's preliminary estimates show that just over 800 passengers due to arrive at the three airports on 13 October. It did not state the expected arrival numbers for Taipei's Taoyuan airport, which is the main international gateway.