A senior advisor at a US think-tank has criticised potential sanctions against Chinese airframer Comac as being more detrimental to the US aerospace industry than their intended target, China.
Scott Kennedy, who is also the trustee chair in Chinese business and economics at the Center for Strategic and International Studies (CSIS), made the case that potentially restricting or banning US firms from supplying Comac's C919 narrowbody programme "does not serve the American national interest".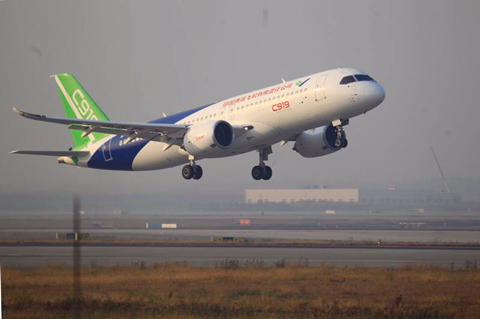 "Punishing Comac with sledgehammer sanctions would hurt the US aerospace industry and ultimately American national security more than they would harm China," he wrote.
Reuters in late November reported that the US was considering listing Comac, as well as 88 other Chinese firms, as being associated with the Chinese military and as being "military end-users", and restricting them from buying US goods and technology.
In his 7 December report, Kennedy says this is because the C919 is "not a serious commercial threat" to the Boeing 737 and Airbus A320.
Noting that Comac "has essentially been given a blank cheque by China's top leadership to complete and deliver the C919", Kennedy notes that the airframer's "struggles" developing commercial aircraft "are not going to end any time soon".
He adds that the gap between Chinese and Western airframers is growing, unlike in other industries like telecommuniciations where China is advancing rapidly.
"China is still struggling to master the technologies of today — or rather, from two decades ago," Kennedy notes, adding that Boeing and Airbus face much larger challenges than Chinese competition, including shifts in transportation technologies and manufacturing.
He also downplayed the significance of the Chinese aerospace industry, writing: "Comac has received massive state funding and global attention, but it is not in the same league as the world's top commercial aircraft manufacturers — Boeing, Airbus, Embraer and Bombardier. Comac isn't even as capable as its long-time Russian counterparts…which have more advanced technology but still have struggled commercially."
Pointing out that the C919 is "un-Chinese" given the multinational nature of its suppliers, Kennedy says of the 82 suppliers for the programme, only 14 key suppliers are Chinese companies. In comparison, 84 suppliers, or more than half, are US companies.
Among the Western suppliers is CFM International, a joint venture between France's Safran, and the US' GE Aviation, which supply the aircraft's engines.
Furthermore, there is the risk of retaliation from the Chinese market on US aerospace companies, which would be counterproductive.
"Halting business with Comac would likely mean Chinese retaliation against Boeing and many of Comac's American suppliers, which would hurt these firms' bottomlines and reduce their ability to engage in research and development that would eventually redound to the US military and America's strategic partners," says Kennedy.
Sanctioning Comac and other Chinese companies would also "push China further down the path of self-reliance and out from under the current aerospace technology hierarchy led by the United States and its allies", he adds.
Comac, which also produces the ARJ21 regional jet programme, recently announced that the C919 has entered its final flight test stage, having received the type inspection authorisation from Chinese authorities.
Cirium fleets data shows that there are 305 firm orders for the C919. Comac has also secured more than 700 commitments for the aircraft.