Comac has received the type inspection authorisation for its C919 narrowbody programme, paving the way for final flight testing and certification.
The authorisation — issued by the Civil Aviation Administration of China (CAAC) on 27 November — means that the aircraft design has been finalised and verified, and that no major changes can be made to its structure.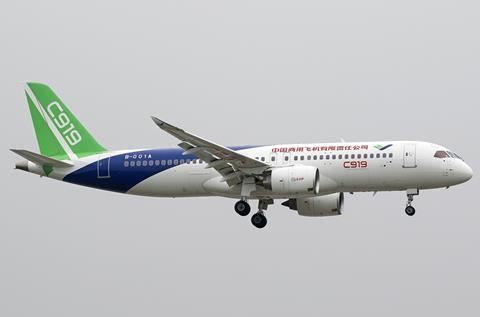 The Chinese airframer also hopes to receive the C919's airworthiness certificate from the CAAC by next year, allowing it to commence deliveries to Chinese carriers. The launch customer for the type will be Shanghai-based China Eastern Airlines.
Comac states that its fleet of six C919 prototypes are currently in various parts of China — including in Nanchang in Jiangxi province, Xilinhot in Inner Mongolia, as well as in Yanliang in Shaanxi province — conducting certification test flights.
Moving forward, it notes that the test fleet will carry out "more intensive flight test missions" on its path towards certification.
The authorisation marks a new chapter for the narrowbody programme, which Comac hopes will compete with the Boeing 737 and Airbus A320 family. FlightGlobal previously reported in 2019 that the programme timeline had moved to the right by about a year, from an original service entry timeframe of 2020-2021, to 2021-2022.
Cirium fleets data shows that there are 305 firm orders for the C919. Comac has also secured more than 700 commitments for the CFM International Leap-1C-powered aircraft.