Chinese airframer Comac has landed on the US government's blacklist of "communist Chinese military companies", where it could face sanctions and an investment ban from US companies.
The move by the Trump administration — in its last days before President-elect Joe Biden takes office — comes weeks after the airframer narrowly escaped being listed on the US government's Military End User (MEU) list, where it would have been subjected to special export licensing requirements.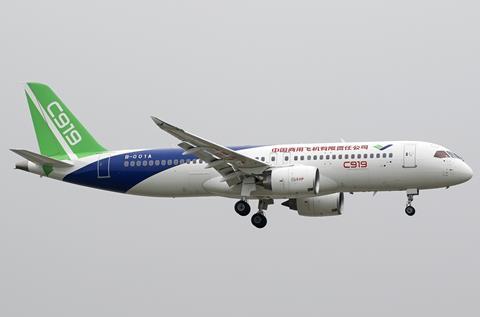 In the latest update, Comac joins eight other Chinese firms across industries to be blacklisted by the US government, including Hainan Airlines sister carrier Grand China Air.
Cirium data shows Grand China Air, which is part of the HNA Group, has an 18.6% shareholding from US billionaire investor George Soros.
While Comac does not have any shareholding from US companies, it is a major user of western aerospace technologies.
At the heart of the list is the US government's contention that Beijing is employing a "military-civil fusion development strategy" by using corporations as a means to harness civilian technologies for military purposes.
The US Department of Defense states that it is "determined to highlight and counter" China's strategy, which it adds "supports the modernisation goals of the People's Liberation Army by ensuring its access to advanced technologies and expertise acquired and developed by even those PRC companies, universities, and research programmes that appear to be civilian entities".
The list seeks to ban future US investments, while existing investors will need to divest their shareholding by November.
Comac, which manufactures the ARJ21 regional jet, as well as the in-development C919 narrowbody, did not immediately respond to FlightGlobal's request for comment.
Comac and Grand China Air join several other aerospace-linked companies blacklisted in earlier tranches, including Avic and China Aerospace Science and Industry Corporation (CASIC), which manufactures military unmanned aerial vehicles. The list originates from a 1999 law requiring the US Department of Defense to identify companies owned or controlled by the PLA.
In late December, the US released its MEU list, omitting Comac, but listing several Avic units that produce military aircraft, such as Chengdu Aircraft, Guizhou Aviation, Harbin General Aircraft, Shaanxi Aircraft Industry, Shenyang Aircraft Corporation, and Xian Aircraft Corporation.