Embraer aims to secure orders for the smallest E-Jet E2 variant in the coming months as it targets non-US customers for the E175-E2. Meanwhile production of the original E175-E1 could continue alongside the re-enegined variant "forever" as Embraer awaits a widening of the US scope clauses.
The first Pratt & Whitney PW1700G-powered E175-E2 was flown on 12 December, despite Embraer currently holding no firm orders for the latest and final E-Jet derivative to be developed. Embraer Commercial Aviation chief executive John Slattery told FlightGlobal during aviation finance week in Dublin that flight-testing is progressing on "a timeline of two years for the certification".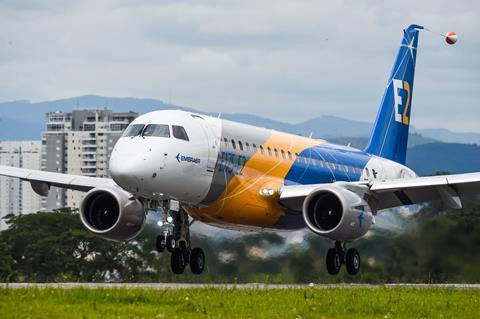 "We were questioned why it wasn't a little faster given our track record with [certification of] the 195-E2 coming after the 190-E2. But this is a different aeroplane – different wings, landing gear, empennage and engines," says Slattery.
He expects the first E175-E2 delivery could take place "somewhere between the end of 2021 and first quarter of 2022. I'd like to be delivering an aircraft by December 2021."
While there are no firm orders held currently, Embraer holds contractual commitments from US carriers SkyWest and Trans States which are subject to a change in the US pilot scope clause regulations to enable the E175-E2 to be compliant.
"My team is working on securing firm orders in the first half of this year outside the US and we have a high degree of confidence…in [securing] meaningful orders. There's plenty of demand in Western continental Europe and Southeast Asia and other jurisdictions.
He adds that potential targets likely to be current E1 customers but new to the E2 series.
In the USA, Embraer will continue to offering GE Aviation CF34-powered E175-E1 for "however long that is required", says Slattery. "It could continue in production forever, if that's the requirement. We have a hybrid line in San Jose dos Campos where we can assemble 175-E1s alongside E2 variants."