United Airlines' pilot union leadership has approved a new contract that would provide a 14.5% pay raise over 18 months and maintain at least some limits on United's regional operation.
The two-year agreement now goes to United's 14,000 pilots for approval, with that vote due to close on 15 July, union Air Line Pilots Association, International (ALPA) said on 24 June.
ALPA says the deal includes "no changes to the number of permitted" regional aircraft, but the union does not address the more-critical question of allowable regional-aircraft maximum take-off weights. The union's current contract with United prohibits its regional-airline partners from operating Embraer's new E175-E2.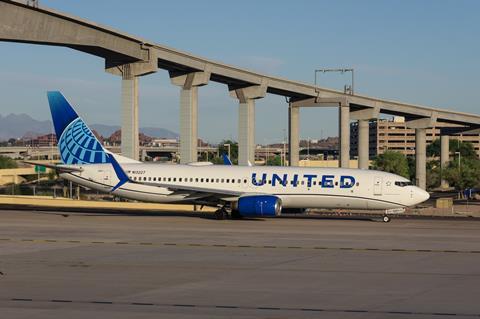 The union says the deal "raises the bar for all airline pilots and leads the industry forward".
"Our ability to reach this agreement, and the current success of United Airlines, is driven by front-line United pilots who stayed unified and focused throughout negotiations despite the incredible challenges we faced during the largest disruption in the history of aviation," says Michael Hamilton, chair of ALPA's United pilot group.
In May, ALPA said it and United had agreed in principle to a new employment agreement.
The contract provisions affecting United's regional operation are generally known as scope clauses. They limit the types of flying that major carriers can farm out to regional carriers – companies like Mesa Airlines, Republic Airlines and SkyWest Airlines. Pilot unions favour the clauses, viewing them as providing protections to mainline pilot jobs.
US major airlines' existing pilot contracts prohibit regional affiliates from operating aircraft with more than 76 seats or with maximum gross take-off weights (MGTOW) exceeding 39,000kg (86,000lb). ALPA says the new contract includes "no changes to the number of permitted 76-, 70- or 50-seat regional aircraft".
ALPA did not respond to several requests for further information about scope clause limits in the new contract.
Embraer has been hoping to introduce its E175-E2 to US regional airlines, which compose the world's largest regional-jet market.
Embraer's first-generation E170 and E175, which do not exceed the seat or MGTOW limits, proved wildly popular in the USA. But the E175-E2, with its heavier Pratt & Whitney turbofans, puts the model about 5,440kg over the current weight cap.
Embraer has repeatedly delayed the E175-E2's service entry. The type flew its maiden flight in December 2019 and was originally scheduled to enter service in 2021. Earlier this year, the company pushed the E175-E2's timeline to 2027, citing the scope-clause limits.
E175-E2s can seat 80-90 passengers, depending on configuration. The company's E190-E2 and E195-E2 regional jets also exceed scope-clause limits.