Brazilian airframer Embraer has completed first flight of its E175-E2 regional airliner, making good on its aim of having the third and last variant of the E2 family take flight before year end.
The aircraft departed at 11:07 local time on 12 December from Sao Jose dos Campos, home to the company's Faria Lima manufacturing complex, and flew for 2h, 18min, Embraer says.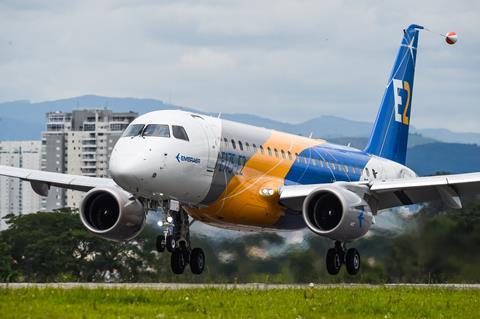 Aboard were two test pilots and two flight engineers, who evaluated the aircraft's "performance, flight quality and systems behavior", Embraer says.
The maiden flight kicks off a flight-test and certification campaign expected to last 24 months and to include two additional aircraft.
Embraer plans for the first and second prototypes to conduct aerodynamic, performance and systems tests, while the third prototype will be used to validate maintenance tasks.
Embraer Commercial Aviation chief executive John Slattery says the flight "marks the completion of our vision to produce a family of new-generation commercial aircraft".
The company launched the E2 programme in 2013 at the Paris air show, building on its globally-successful line of first-generation E-Jets, which include the GE Aviation CF34-powered E170, E175, E190 and E195.
Only three variants compose the E2 lineup: the 80-90-seat E175-E2, 97-114-seat E190-E2 and the 120-146-seat E195-E2.
Pratt & Whitney PW1700G geared turbofans power the E175-E2, while more-powerful PW1900G engines power the two other variants.
Embraer gave its E2s new wings and landing gears, and it says 75% of all systems are new.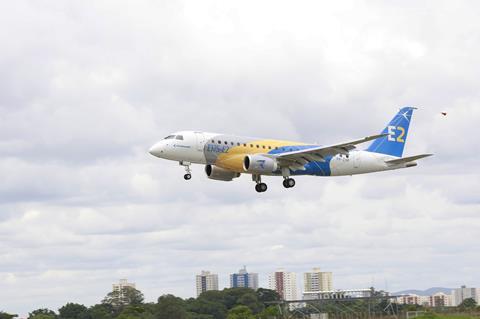 The E190-E2 flew for the first time in May 2016, followed by the E195-E2's maiden mission in March 2017. Those types are already in airline service.
Some industry observers had speculated Embraer might not move forward with E175-E2 development because, unlike the first-generation E175, its maximum takeoff weight exceeds 86,000lb, the maximum contractually-allowed for most major US regional carriers.
But Embraer has proved skeptics wrong. Slattery has said the E175-E2's first customer will likely be outside North America, and has stressed that Embraer sees strong demand for the updated regional jet.
Also, to the benefit of US airlines, Embraer has said intends to continue building E175s alongside E175-E2s.
The E175-E2 has one more row of seats than the E175 and will burn 16% less fuel and save airlines 25% in maintenance costs, Embraer says.
E2s will have the "longest maintenance intervals in the single-aisle category", requiring basic checks every 10,000h of flight, which equates to 15 days more use over ten years than E175s, according to Embraer.
The company's most-recent backlog statement shows it held no E175-E2 orders at the of September, though it did have orders for 44 E190-E2s and 124 E195-E2s.