Embraer and the Brazilian air force will study the development of a new light military transport aircraft.
The two have signed a memorandum of understanding related to the potential development, says the Brazilian manufacturer.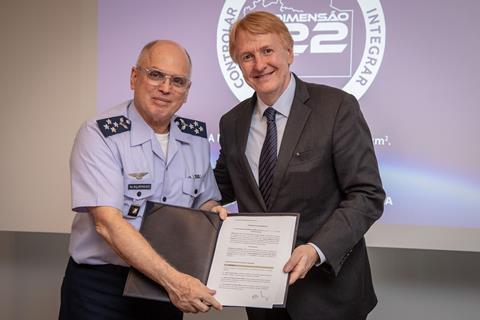 "The study seeks to identify alternatives and solutions to meet [the air force's] operational needs, especially in the Amazon region and austere environments, including unpaved, short and damaged runways located in remote areas," it says.
"Relying on Embraer's high level of innovation and technological capabilities, the study will also seek to explore new technologies to provide solutions to [the air force's] extreme demands, such as different system architectures, innovative platform solutions, and hybrid-electric propulsion, among others."
In addition, the study will assess international demand for new light transports. Embraer Defense & Security is active on the international market, and has enjoyed success overseas with the A-29 Super Tucano and the C-390 tactical transport.
Embraer's statement on the MOU gave no details on timelines, such as when a decision might be made to move the programme to the developmental stage, or the overall market for the prospective aircraft.
"The purpose of this memorandum is to formalize Embraer's intention to develop a light transport aircraft to carry cargo and personnel. The Brazilian Air Force participation is mainly with regard to sharing expertise, based on projects that Embraer and the Brazilian Air Force have already developed in partnership, to meet the Air Force's needs over time", says Brazilian air force commander Antonio Carlos Moretti Bermudez.
Cirium Fleets data indicates that the new type, if developed, could replace the Brazilian Air Force's in-service fleet of 68 EMB-110s and 19 EMB-120 twin turboprops. The average age of this fleet is 34.5 years, with an age range of 16.5 to 44.5 years.
Of these 87 aircraft, 66 are used as light transports, 13 for reconnaissance, and five for flight calibration and navigation work. The remaining three are used for electronic intelligence and signals intelligence work.